Gringo Bandito Original Red Sauce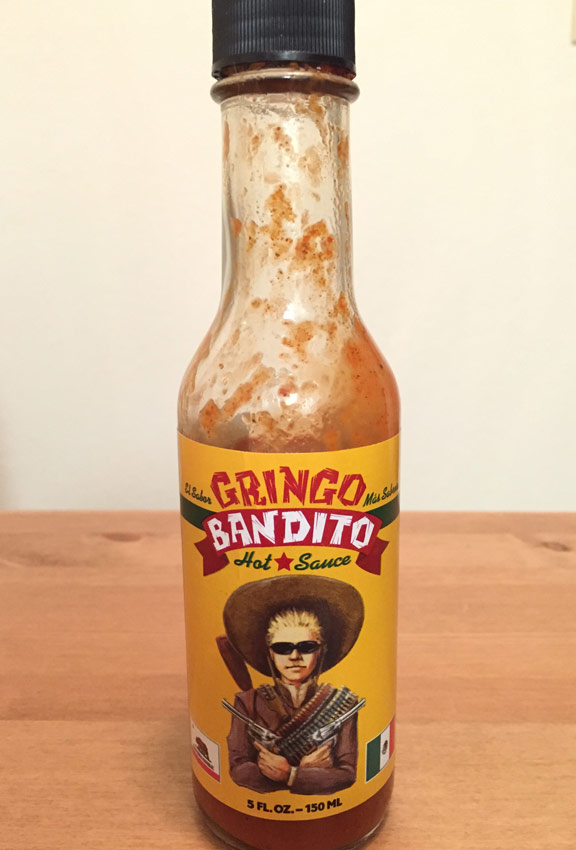 A

4.4

/

5

BASED ON

3

REVIEWS
Maker:
Hungry Punker, Inc.
Huntington Beach, CA, United States
Pepper(s):
Habanero, Jalapeño
Ingredients:
White Vinegar, Water, Habanero Peppers, Jalapeño Peppers, Red Japanese Chili Peppers, Salt, Spices, Xanthan Gum
Description:
Official:
"I hope you enjoy the adventurous flavor and tingling tantalization of my not-so-famous pepper sauce. For over ten years I have searched far and wide for the perfect combination of pepper and spices to make your next dining experience a zinger. And I tried to make it easy on the pooper, too. Try it on tacos, burritos, eggs, pizza – it's like a party in your moth. I personally guarantee it. -Dexter Holland (lead singer of The Offspring)"
User Reviews
A4.5

Reviewed by npearson on July 23rd, 2017

Taste: 4
Aroma: 4
Looks: 5
Heat: 1
Label: 4

Label:

Colorful and the description has a sense of humor, but the front label is similar to Tapatío and can give a slightly misleading appearance that this sauce is also from Mexico and not Southern California.

Looks:

Dark red with a little orange. You can see the black pepper and small traces of onion and garlic. Texture is similar to a Mexican sauce, like Tapatío or a slightly more watery Valentina.

Aroma:

Smells like a sauce you would get at Taco Bell.

Taste:

This sauce is delicious and could work with anything. The three pepper combination gives it a lot of versatility.

Heat:

It's got similar heat to Sriracha, so it's good enough for the general public, but die-hard chiliheads will probably be left wanting a little more.

Overall:

A versatile sauce that's delicious and packs a little bit of heat. Definitely worth trying.

A4.5

Reviewed by JalapenoHabanero on October 9th, 2015

Taste: 4.5
Aroma: 5
Looks: 3
Heat: 3.5
Label: 4.5

Label:

The labeling of Gringo Bandito is much better than one would expect from a singer like Dexter Holland. There is a single outlaw holding two guns at the bottom of the logo, with a mustard yellow background to it. The top of the sauce contains western text that is not only creative, but very eye-catching. The Mexican and American flags are exclusively placed at the bottom of the label, adding the perfect finish to this label. My only complaint is that the green behind the text takes away from the heat theme of the sauce.

Looks:

The looks of the sauce are average, to say the least. There's the standard deep red going for the sauce, along with almost nonexistent bumps within the texture of the sauce. It's almost like the texture of Sriracha, only a bit less smooth. Nonetheless, the texture and looks are average and don't stand out at first sight.

Aroma:

The smell, to me, literally makes my mouth water. I want to assemble a meal as quickly as I physically can just so I can douse it in this hot sauce. There's a tropical Mexican aroma to it, while certain spices and peppers immediately stand out. It's got a spicy kick yet a cool essence, which is exactly what a hot sauce should be. A deep sniff even makes the back of your throat tinge with small heat! Also, Habaneros!

Taste:

The taste when consumed straight from the bottle just tastes like moderate heat. When one puts it on the meal, the taste and heat blends in with the integrity of the meal. For example, when I put it on a sandwich, I find the taste is indubitably hot with a hint of spice and Habaneros. On chicken, I find that it has a salty taste, almost like Tabasco with significantly reduced vinegar content. Either the Habaneros or Jalapenos always stick out, depending on the meal. My only complaint is that the sauce tastes salty and reduced straight from the bottle.

Heat:

There's a decent burn that creeps up on you extremely quickly. There's not the immediate bite of Tabasco, but there's a burn wherever you put the sauce. Whenever you swallow this sauce, there's a burning tinge at the back of your throat that will make a novice smack his hands and an intermediate chilihead smile with pleasure. It's not the hottest, but it's a perfect starting sauce and a nice treat for someone who just wants a break from Blair's. Plus... it's easy on the pooper!

Overall:

I absolutely love it on all my meals. I try to preserve it, as 6-7 big drops on a regular panini sandwich will do. However, less than a few weeks in and I'm surfing the web trying to find another one. Goes great with almost any sandwich or burger, is exemplary on nachos, and doesn't hurt on a solid steak. Overall, the heat content could be risen a bit, but it's safe to say that Dexter Holland has created a wonderful sauce that makes your mouth water, and occasionally causes a small tear in your eye. If you see this sauce around, pick it up. It suits everyone.

A-4.2

Reviewed by macmantrl on March 21st, 2015

Taste: 4.1
Aroma: 4
Looks: 3.8
Heat: 3
Label: 4.5

Label:

Artistic, eye catching labeling. Has a California/Mexico flag color scheme (and the actual flags!) with a man holding two guns.

Looks:

Great, dark red-orange color. Has darker black flecks and is a good smooth consistency.

Aroma:

You can really smell the habaneros. Very pleasant.

Taste:

Slightly sweet and well blended. Reminds me a lot of the Fire sauce from Taco Bell. Hints of Kung Pao as well, from the red Japanese chili peppers. Not unpleasant on its own, but really shines when added to food.

Heat:

The three peppers in this sauce make it fairly hot, but not overpowering.

Overall:

Saw this on the shelf at Whole Foods. It was on sale and attractive label so I went for it. Pleasantly surprised with it, I would probably buy again. Goes well on tacos, pizza, etc. I didn't even realize it was made by the singer from The Offspring until I looked it up later.