Heatonist - Los Calientes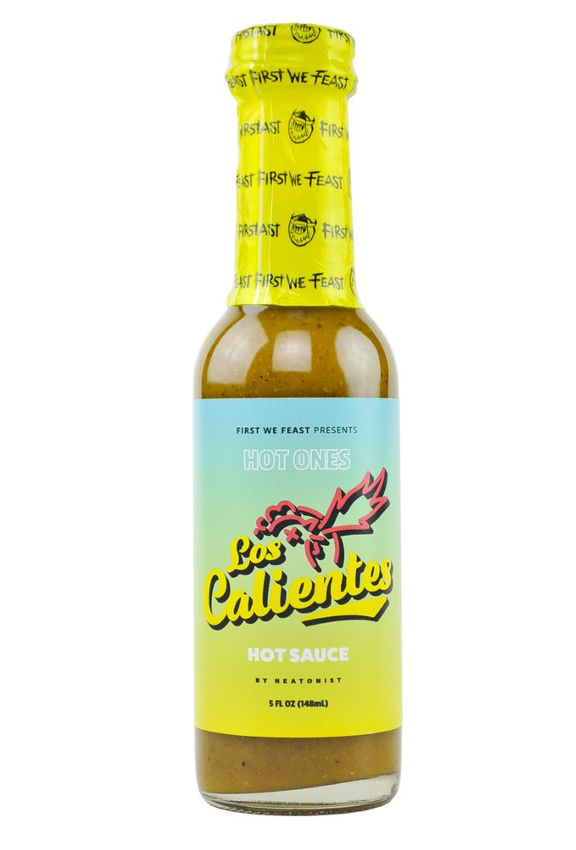 Maker:
Heatonist
Brooklyn, NY, United States
Pepper(s):
Habanero, Serrano
SHU
:

36,000
Ingredients:
Green Serrano, Applewood Smoked Green Serrano, Orange Habanero, Apple Cider, Apricot, Apple Cider Vinegar, Lemon Juice, Tomatillo, Agave Nectar, Water, Garlic, Salt, Toasted Onion, Cumin, Culantro, Black Pepper, Celery Seed
Description:
Official:
"Hot Ones is the show where celebrities divulge their deepest secrets while eating progressively hotter wings. The middle of the lineup is where hot sauce magic happens—the perfect sweet spot between maximum flavor and pleasing heat. Inspired by our favorite Cali-Mex flavors, Los Calientes surfs over the palate with a punchy, smoky blend of serrano and habanero chiles, sweet fruit, and tart tomatillo. Slather it on wings, tacos, pizza, or just about anything that needs an extra kick."
User Reviews
A4.6

Reviewed by RocHot on May 20th, 2019

Taste: 5
Aroma: 4.7
Looks: 3.3
Heat: 3.6
Label: 3.7

Label:

Simple and catchy - tropical look and feel

Looks:

Color is nice - almost verde but not... but the consistency is soupier than I would like.

Aroma:

smokey, sweet aroma with pepper under tone. Not sure if they make a candle with this one yet but give it time I am sure they will

Taste:

A fantastic every day hot sauce! perfectly balanced hot sauce hits the sweet spot between maximum flavor and pleasing heat. The habanero and the serano chili with the sweet flavor from apricots, the red bell pepper and the well known tomatillo

Heat:

A quick hit of quality heat with some flavor to burn along with it. It will be a nice gateway hot sauce for those wanting to go to the next level.

Overall:

After trying the sauce, I can see why Gordon Ramsey praised it during his appearance on the Hot Ones show. Just a solid hot sauce. Heatonist found the right partner to create and produce their vision!