Heirloom Hot Sauce - Beaver Dam Pepper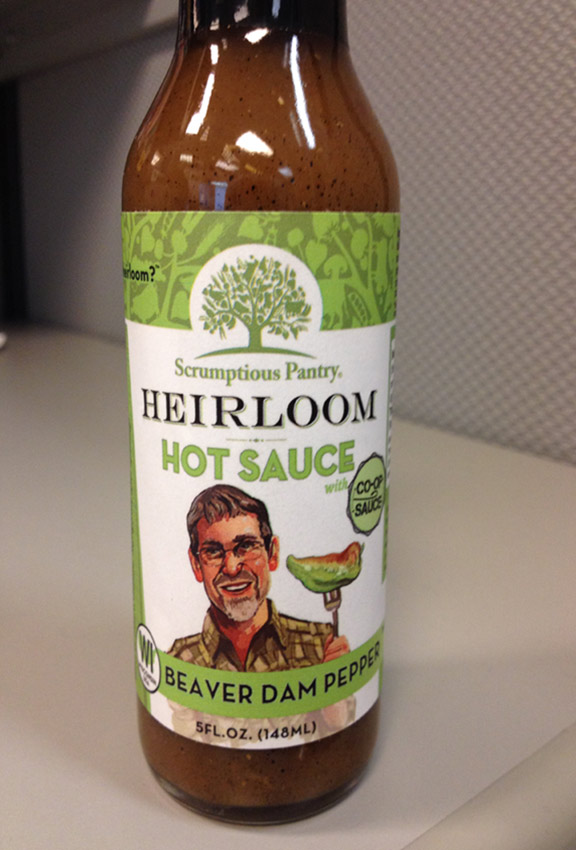 Maker:
Scrumptious Pantry
Chicago, IL, United States
Ingredients:
Water, Peppers, Organic Distilled White Vinegar, Organic Honey, Sea Salt, Tomato Paste, Beaver Dam Peppers, Onions, Garlic, Lime Juice Concentrate, Sesame Paste, Spices, Cane Sugar
Description:
Official:
"This hot sauce has a mild overture and finishes with a flavorful heat – a true representative of the Beaver Dam Pepper's characteristic flavor profile. The delayed heat paired with a little sweetness and bright acidity makes it a great allrounder. To create this complex flavor experience, we roast all the peppers to concentrate the sugars and then wild ferment the mash for two to three weeks. Delicious on succulent meat, BBQ, mac'n'cheese or leafy greens. Gives a surprising twist to a vinaigrette, too"
User Reviews
B+3.7

Reviewed by Thurston on June 12th, 2016

Taste: 3.8
Aroma: 3.5
Looks: 3.5
Heat: 2.5
Label: 3.5

Label:

Bright green with a tree spreading across the top of the label. A smiling man looking very proud of his pepper is plastered on the front.

Looks:

Deep, dark green. Smooth with dark flecks of spices throughout. Thin and fast pouring.

Aroma:

Smells of green peppers, lime, and cumin with a pleasant undercurrent of white vinegar pungency.

Taste:

Has a unique pepper taste with a pleasant and subtle acidity from the vinegar and lime juice. A slight sweetness but nothing distracting. Very tasty.

Heat:

No real heat at all, very mild.

Overall:

I liked this sauce. While it has no heat, it is very tasty and has a unique flavor profile from the unusual peppers. Would be an excellent sauce for eggs, cheese, or chicken. Definitely safe for those who don't like heat.