Heirloom Hot Sauce - Chiltepin Pepper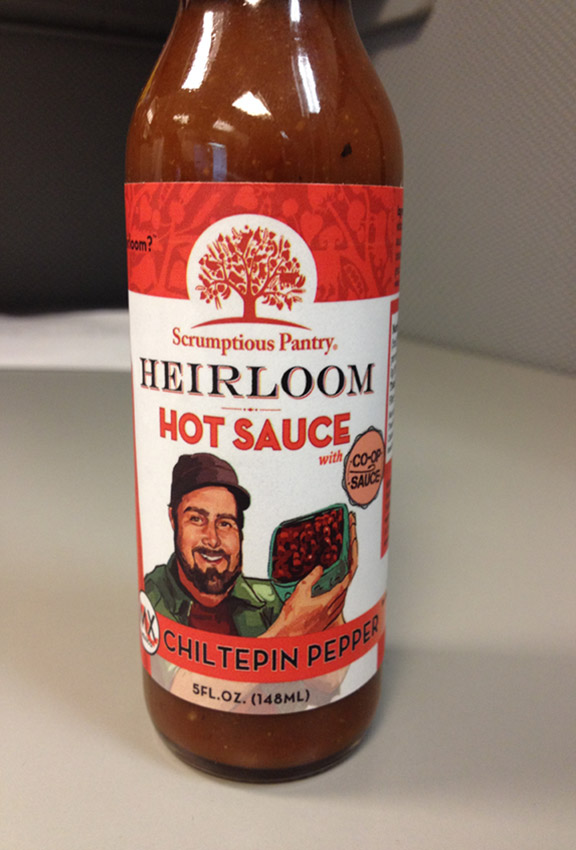 Maker:
Scrumptious Pantry
Chicago, IL, United States
Ingredients:
Water, Organic Distilled White Vinegar, Peppers, Tomato Paste, Sea Salt, Organic Honey, Lime Juice Concentrate, Chiltepin Powder, Spices
Description:
Official:
"The Chiltepin pepper might be tiny, but it packs a punch! This is the hottest of our three hot sauces – representing the pungent characteristic of the Chiltepin's heat, while still showcasing its flavor. To bring out the sauce's complexity, we roast all the peppers to concentrate the sugars and then wild ferment the mash for two to three weeks. This is our go to sauce to pour on meats, hearty vegetables, eggs or chili."
User Reviews
B-3.0

Reviewed by Thurston on June 12th, 2016

Taste: 3.5
Aroma: 3.5
Looks: 3.5
Heat: 2.5
Label: 3.6

Label:

Well designed label. A tree spreads out across the top with a smiling bearded man showing off some Chiltepin peppers.

Looks:

Very runny and fast pouring. Surprised me a little. A deep, ruddy brown. Smooth with specks of spices throughout.

Aroma:

White vinegar up front that gives way to a pepper and southwest spice pungency.

Taste:

Immediate taste of southwest spices, especially cumin, with an undercurrent of vinegar sourness and fruity peppers. It actually reminds me a little of a very high quality taco sauce you would get at Taco Bell.

Heat:

No real heat to speak of. Very slight twinge of a burn at the back of the throat that disappears very quickly.

Overall:

The sauce is very tasty and is definitely made with quality ingredients. It has a nice southwestern flavor that would go well with tacos, burritos, huevos, etc. I knocked off some points due to a noticeable lack of heat but if you are someone who is heat averse, this is a good option for anything you want to give some southwestern flavor.