Hell's Kitchen Hot Sauce - Cinnamon Ghost Punch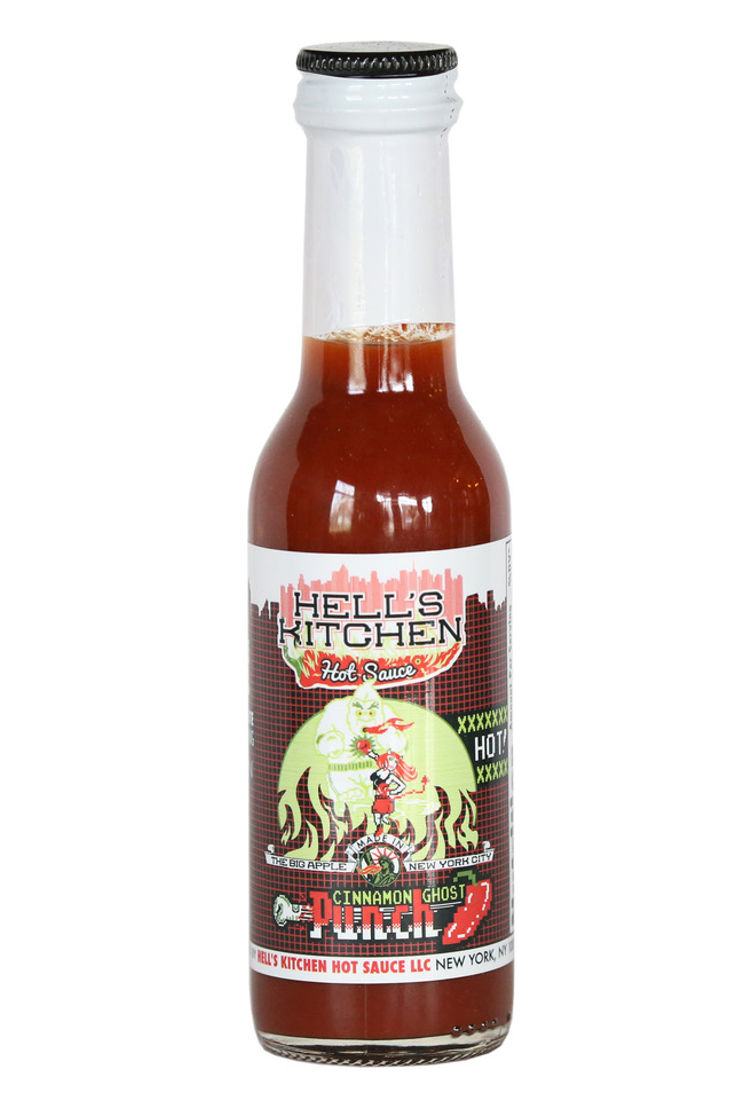 B-

3.0

/

5

BASED ON

2

REVIEWS
Maker:
Hell's Kitchen Hot Sauce
New York, NY, United States
Pepper(s):
Habanero, Bhut Jolokia (Ghost Chili), Trinidad Scorpion
Ingredients:
Chilli Peppers (Ghost Pepper, Habanero, Trinidad Scorpion), Tomatoes, Lime Juice, Vinegar, Agave Nectar, Salt, Cinnamon, Garlic Powder, Paprika.
Description:
Official:
"A unique blend of hand selected superhot peppers with overtones of savory cinnamon goodness. Deliciously unique…blazingly craveable! Enjoy with caution…the heat will haunt you!"
User Reviews
B-3.0

Reviewed by SunnyOsRego on September 21st, 2020

Taste: 4.8
Aroma: 4
Looks: 4
Heat: 4
Label: 4

Label:

Very fun label! Kind of like super punch out.

Looks:

Looks hot and is! Got some texture but is mostly liquid.

Aroma:

Delicious cinnamon smell, really nice

Taste:

I was thinking cinnamon would be weird with hot sauce but it's fantastic! On eggs, in ramen, even with steak this has been one of my favorites.

Heat:

It's hot but not too hot. It's got a sweetness that helps temper the max heat.

Overall:

I give this only a 3 because of the next day. This hits my toilet hard. Also the opening has not drip guard. This is fine if you are aware, but when you forget it exasperates the other issue lol.

B-3.0

Reviewed by Kebiko on July 9th, 2019

Taste: 3.5
Aroma: 3.6
Looks: 3.3
Heat: 2.6
Label: 4

Label:

Label has a cool 80's retro look to it. Grid in the background with a character similar to the "Punch Out" video arcade game. Sweet little devil woman in front as well.

Looks:

On the runny side but does have some chunkiness to it. Bright red in color.

Aroma:

Cinnamon! Cinnamon is the dominating aroma with tones of tomato.

Taste:

Cinnamon and tomato. Sauce is sweet with cinnamon dominating the flavor. Peppers are faint and in the background.

Heat:

I was expecting more heat being that this sauce has Ghost Peppers and Trinidad Scorpions in it. Tested a half a teaspoon. Not very hot.

Overall:

Overall, this is not a bad sauce and really packs a cinnamon punch. My feeling is this would go well with dessert. Maybe on vanilla ice cream. Will have to experiments a bit with this one. If you are expecting a lot of heat, be sure to set your expectations low.