High River Sauces - Cheeba Gold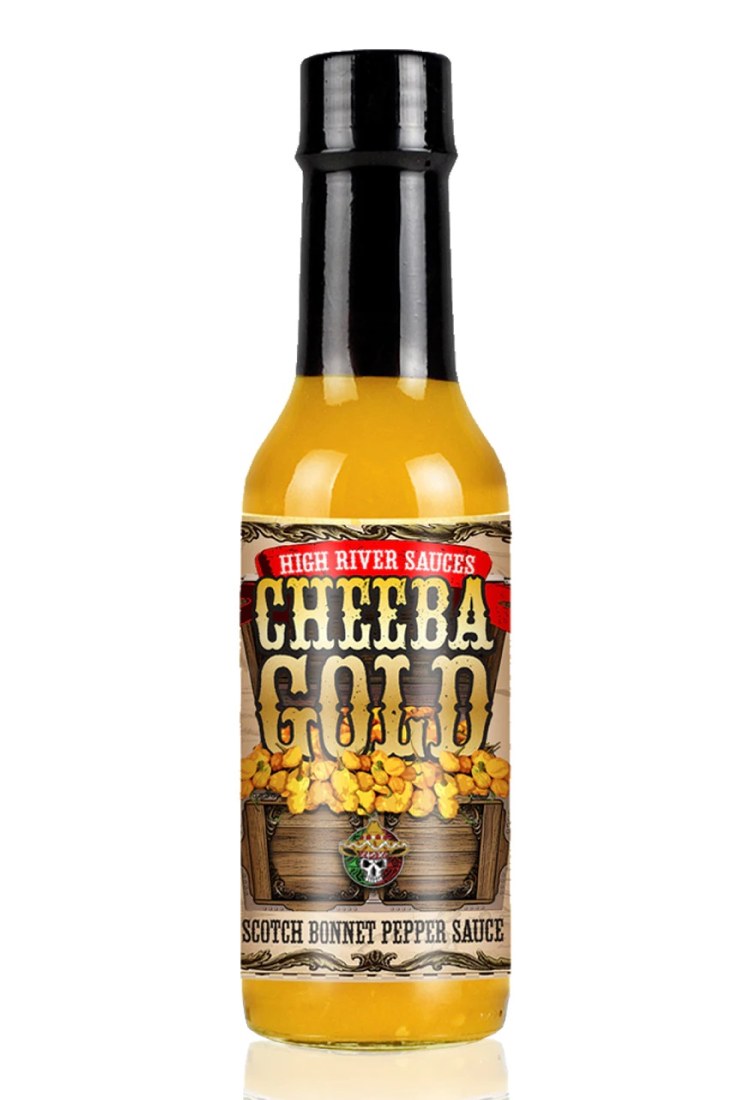 Maker:
High River Sauces
King's Park, NY, United States
Pepper(s):
Fatalii, Scotch Bonnet
Ingredients:
Peaches, Mustard, Garlic, Onion, Lemon Juice, Curry, High River Spices, Yellow Scotch Bonnet Peppers, Fatalli Peppers
Description:
Official:
"Scotch Bonnet Pepper Sauce:

This fiery mustard based hot sauce uses curry, sweet peach and Scotch bonnets for a zesty tropical flavor.

Revisit the islands and experience the West Indian magic of The Cheeba Gold."
User Reviews
A4.5

Reviewed by Winter_YT on December 28th, 2020

Taste: 4.6
Aroma: 3.8
Looks: 4.2
Heat: 5
Label: 4.4

Label:

Pretty cool labeling. It's got a big pirate chest with gold scotch bonnets tumbling out like treasure. I like it and it stands out. Nice gold colored bottle.

Looks:

This sauce is CHUNKY, and I must say this in all caps. To say it has visible ingredients is a bit of an understatement. It's so chunky in fact it can be tough to get out of the small bottle and would almost feel more at home in a salsa jar.

Aroma:

It smells of vinegar and scotch bonnet peppers. A more refined nose could probably pick up all the ingredients but I'm a long time smoker.

Taste:

It tastes like a really chunky honey mustard at first and then that beautiful scotch bonnet heat kicks in and it's just delicious. I would describe it as a very sweet and very spicy honey mustard with a kick of peppery vinegar. The only reason I'm not giving it an A+ is because it's not at all a very smooth sauce. It's got big bits of tough seeds, which is fantastic that you're getting these real ingredients but I just wish it were ground up a bit more, as a personal preference.

Heat:

The heat is really nice and right where I like it. The heat i'd say is a bit more than a habanero sauce but not too spicy so that you can't enjoy the flavor. It's quite nice.

Overall:

I think it's a really fantastic sauce. The flavor and heat are perfect to me, I only wish the ingredients were a bit smoother.