Honest Ember - Hickory Habanero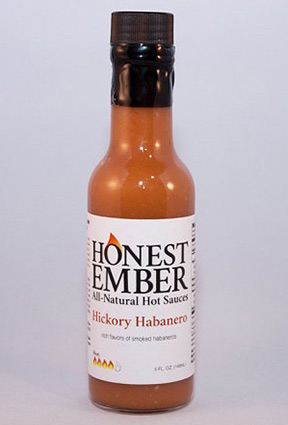 Maker:
Honest Ember
Austin, TX, United States
Pepper(s):
Habanero
Ingredients:
Smoked Habanero Peppers, Water, Onions, Vinegar, Sugar, Garlic, Salt, Spices
Description:
Official:
"This sauce is just as hot as our Garlic Habanero Hot Sauce with the added bonus of a deep smoked character that is sure to transform your food into something straight out of a Texas BBQ!"
User Reviews
A+5.0

Reviewed by HotSauceBarbie on December 9th, 2013

Taste: 4.9
Aroma: 5
Looks: 5
Heat: 4.5
Label: 4.5

Label:

I like the label because it is clear and crisp. It's not overwhelming and I can understand the product.

Looks:

Consistency is liquid. It's not as liquid as tabasco, but its not chunky either. It's a happy medium. The color is an orange-brown.

Aroma:

It smells like a texas BBQ! It remind me of hickory wood and steak.

Taste:

I can taste the heat of the habaneros, garlic, and the smokiness of a bbq. It doesn't taste like vinegar which I enjoy.

Heat:

For me, it's HOT!! I just put a circle of the hot sauce around the outside of my plate. My nose runs after about 5 minutes and I love it.

Overall:

I love this sauce. I like the way it doesnt taste like anything I've had before. It is just like a good old texas bbq, but with the kick of habanero and garlic. I have it every time I have a breakfast skillet, steak, or hamburger. You gotta try this sauce!!