Honest Ember - Mango Habanero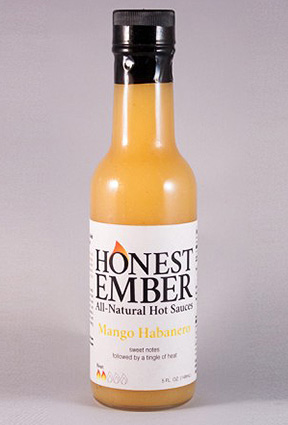 Maker:
Honest Ember
Austin, TX, United States
Pepper(s):
Habanero
Ingredients:
Mango, Water, Onion, Vinegar, Habanero Peppers, Salt, Garlic, Spices
Description:
Official:
"We hand-select each mango that goes in to our sauce! Like all of our products, we only use natural ingredients with no artificial flavorings, colorings or preservatives.

If you are looking for a tangy and sweet addition to your favorite foods, this is the sauce for you! It has the sweetness and flavor of ripe mango as well as the rich citrus flavor of habanero peppers.

Our Mango Habanero Hot Sauce is fantastic on tacos, chicken sandwiches and pork dishes.

The heat level is medium and it can give a nice warming feeling when mixed in with a salsa or dip, put on a sandwich, or added to your favorite rice or pasta dish."
User Reviews
A+5.0

Reviewed by HotSauceBarbie on December 9th, 2013

Taste: 5
Aroma: 5
Looks: 5
Heat: 3.5
Label: 4.5

Label:

Good Label, clear and easy to read. I know exactly what I'm getting.

Looks:

The sauce is yellow-orange. It isn't runny like texas pete, but it isn't chunky where you need a spoon. The texture is smooth.

Aroma:

The smell is sweet and spicy. It definitely smells like mango but with some onion and habaneros too!

Taste:

This is my all time favorite hot sauce. I use it on truly everything. It tastes spicy and sweet.

Heat:

It's spicy, but not the kind of spice where I'm uncomfortable and can't enjoy my food. I love how it does on every dish. The habaneros give a good burn at the end.

Overall:

I love this sauce because I put it on everything. I probably use a bottle every two weeks. I put it on potatoes, chinese food, soups, potatoes, pizza.. pretty much everything! It's sweet and spicy!