Humble House - Guajillo & Red Jalapeno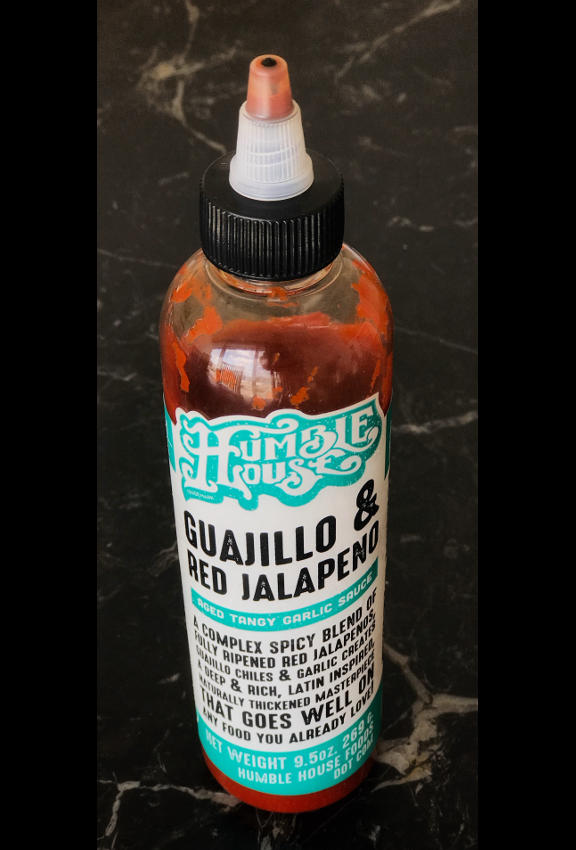 A

4.3

/

5

BASED ON

2

REVIEWS
Maker:
Humble House
San Antonio, TX, United States
Pepper(s):
Jalapeño, Guajillo
Ingredients:
Aged Chile Paste (red Jalapeños, Fresh Garlic, Vinegar, Guajillo Chiles, Kosher Salt) Vinegar, Pickled Red Bell Pepper, Cane Sugar.
Description:
Official:
"Aged tangy garlic sauce. A fully complex spicy blend of fully ripened red jalapeños, guajillo chiles & garlic creates a deep & rich, Latin inspired, naturally thickened masterpiece that goes well on any food you already love!

Natural, Vegan, Gluten Free, Local."
User Reviews
B3.6

Reviewed by Dario on July 7th, 2020

Taste: 5
Aroma: 4
Looks: 5
Heat: 2
Label: 5

Label:

Good label. Bold, eye-catching, and easy to read.

Looks:

Dark red color, thick sauce consistency. Smooth texture. All good.

Aroma:

I had trouble getting much aroma from this one. Nothing unpleasant, but not much there. Garlic and tomato, maybe?

Taste:

Tomato, sweetness, garlic, vinegar, and pepper. It's a nice enough sauce. More sweet than I generally prefer. Nice flavor.

Heat:

Not much heat with this one. I tried several times when writing this and I did not have any super-hot sauces beforehand. For people who eat hot sauce this has virtually no heat. (I hate to score this down for not being hot, because the heat it does have is pleasant. Just less than I want in a hot sauce.)

Overall:

This is a good sauce and nicely made. It's almost like a sweet sriracha. I like less sugar and more heat. No doubt this sauce will appeal to a lot of people. Very nicely made sauce that tastes great, just not into y hot sauce zone.

A+5.0

Reviewed by TrvlAnimal on March 24th, 2018

Taste: 5
Aroma: 5
Looks: 5
Heat: 2
Label: 5

Label:

Very nicely done. Effective printing. Artfully designed without being too slick. Colors in the label go well with the sauce.

Looks:

Smooth and consistent as Sriracha, with a very similar color.

Aroma:

Slightly sweet, slightly tangy, a potent, heady aroma, that has no off-putting tones.

Taste:

This sauce tastes like a Sriracha that has been sweetened a little and is less spicy. This combination works very well.

Heat:

His sauce is not especially hot even though there is an aggregate burn. I did not buy it solely for heat. I was in Texas and looking for something new. This fit the bill the minute I started to use it. It was a happy experiment.

Overall:

I bought this sauce at an H-E-B grocery store in Houston. I took it to my hotel and used it on eggs, over-easy the next morning. A great fit. Made the eggs slightly smoky, tangy, sweet, and creamy tasting. And as with Sriracha, it goes well on nachos/corn chips. I looked the price up on Amazon and they want a fantastic price, one I will not pay. I then went to the Humble House website, they want $10 a bottle, 9.7oz. Ridiculous. H-E-B was selling a bottle for $5.75. I returned to the store and bought 2 other hot sauces made by Humble House, look for those reviews elsewhere on this website. Unfortunately, I cannot recommend a retailer outside of H-E-B. There may be others I just have not looked for them.