Humble House - Guajillo & Red Jalapeno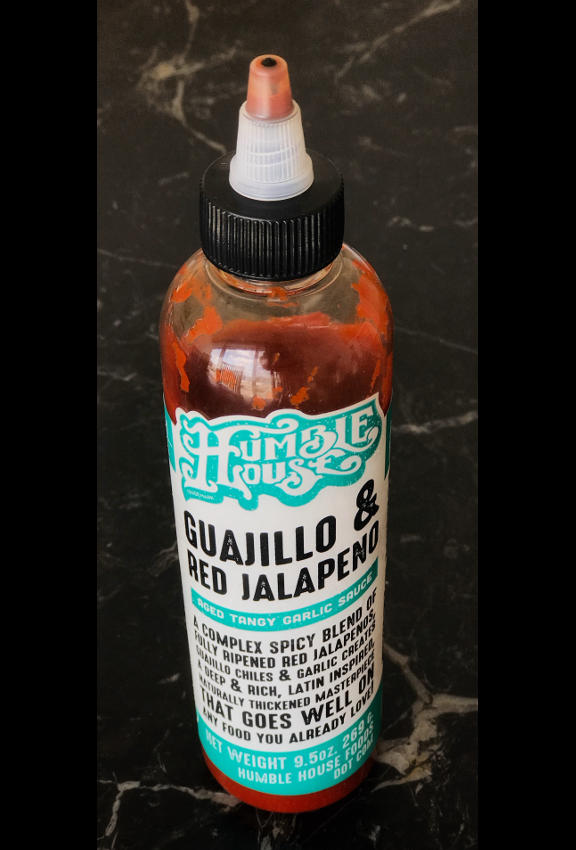 Maker:
Humble House
San Antonio, TX, United States
Pepper(s):
Jalapeño, Guajillo
Ingredients:
Aged Chile Paste (red Jalapeños, Fresh Garlic, Vinegar, Guajillo Chiles, Kosher Salt) Vinegar, Pickled Red Bell Pepper, Cane Sugar.
Description:
Official:
"Aged tangy garlic sauce. A fully complex spicy blend of fully ripened red jalapeños, guajillo chiles & garlic creates a deep & rich, Latin inspired, naturally thickened masterpiece that goes well on any food you already love!

Natural, Vegan, Gluten Free, Local."
User Reviews
A+5.0

Reviewed by TrvlAnimal on March 24th, 2018

Taste: 5
Aroma: 5
Looks: 5
Heat: 2
Label: 5

Label:

Very nicely done. Effective printing. Artfully designed without being too slick. Colors in the label go well with the sauce.

Looks:

Smooth and consistent as Sriracha, with a very similar color.

Aroma:

Slightly sweet, slightly tangy, a potent, heady aroma, that has no off-putting tones.

Taste:

This sauce tastes like a Sriracha that has been sweetened a little and is less spicy. This combination works very well.

Heat:

His sauce is not especially hot even though there is an aggregate burn. I did not buy it solely for heat. I was in Texas and looking for something new. This fit the bill the minute I started to use it. It was a happy experiment.

Overall:

I bought this sauce at an H-E-B grocery store in Houston. I took it to my hotel and used it on eggs, over-easy the next morning. A great fit. Made the eggs slightly smoky, tangy, sweet, and creamy tasting. And as with Sriracha, it goes well on nachos/corn chips. I looked the price up on Amazon and they want a fantastic price, one I will not pay. I then went to the Humble House website, they want $10 a bottle, 9.7oz. Ridiculous. H-E-B was selling a bottle for $5.75. I returned to the store and bought 2 other hot sauces made by Humble House, look for those reviews elsewhere on this website. Unfortunately, I cannot recommend a retailer outside of H-E-B. There may be others I just have not looked for them.