Iguana - Mean Green Jalapeno Pepper Sauce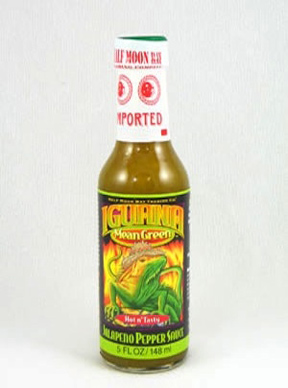 Maker:
Half Moon Bay Trading Co.
Atlantic Beach, FL, United States
Pepper(s):
Jalapeño
Ingredients:
Water, Jalapeno Pepper, Carrot, Cane Sugar, Salt, Onion, Vinegar, Modified Cornstarch, Garlic, Asorbic Acid, Sodium Bezoate
Description:
Official:
"All Killer * No Filler"
User Reviews
B3.5

Reviewed by Onfirebabies on March 13th, 2013

Taste: 4
Aroma: 5
Looks: 4.5
Heat: 3
Label: 4

Label:

A tough little Iguana sporting a "cool guy" hat, engulfed in flames....what else can you ask for?

Looks:

A light green slightly chunky sauce.

Aroma:

Strong vinegar smell with a hint of smoke.

Taste:

Despite it having a strong saltiness, the rest of the ingredients blend together well. Overall, I would say it is a rather tasty sauce.

Heat:

By no means a powerhouse, but you will feel the burn. It lingers for some time, but will not overpower your food.

Overall:

I received this sauce in a gift pack from a lovely woman in Florida. Honestly I would have probably never tried it otherwise. I tend to pass over goofy labeled sauces. Maybe that is the HS snob in me speaking......maybe. I'm glad i tried this one. Great on fried chicken.