La Anita - Green Chile Habanero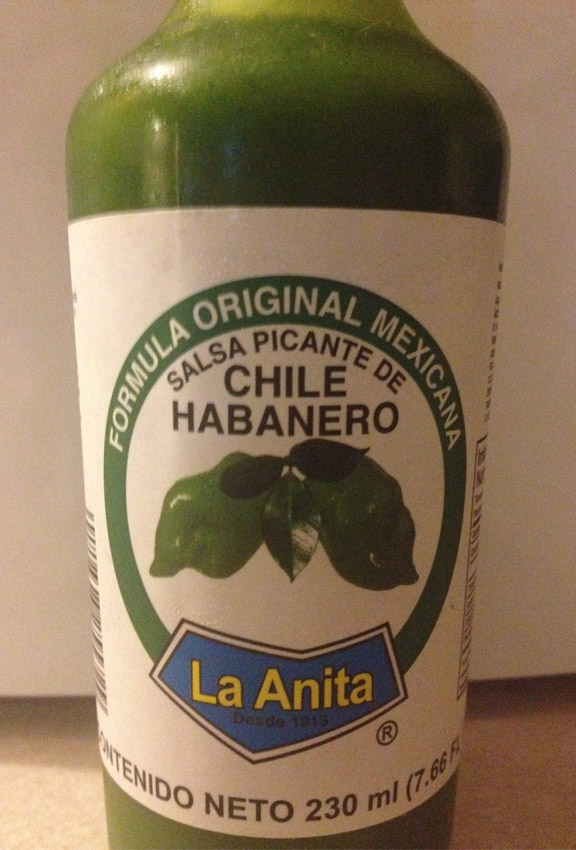 Maker:
La Anita
Merida, Yucatan, Mexico
Pepper(s):
Habanero
Ingredients:
Water, Habanero, Salt, Vinegar, Sodium Benzoate, Potassium Sorbate, Yellow 5 F.D. & C. (Cl 19140), Blue 1 F.D. And & C (Cl 42090)
Description:
Official:
"Original recipe elaborated with selected fresh habanero peppers from the Yucatan Peninsula, Mexico.This is our most versatile sauce, it's ideal to give a mild spicy flavor to any meal you want, from tacos to sandwiches, soups, pizza, pastas, there are no restrictions!"
User Reviews
B3.5

Reviewed by Thurston on July 9th, 2015

Taste: 3.5
Aroma: 3.5
Looks: 3
Heat: 3.8
Label: 3.5

Label:

Pretty basic label. White with a picture a habanero. Nothing to get too excited over.

Looks:

Bright green color that is definitely a result of the added artificial colors. Thin but has some heft and viscosity. Specks of peppers.

Aroma:

Vinegar forward with a prominent and distinct note of habanero.

Taste:

I taste the vinegar first which quickly gives way to the fruity taste of habanero though it does taste a little more vegetable indicating the habanero's used were green. There's not much else in the sauce so it is a pretty straightforward taste.

Heat:

It has an immediate heat that blooms across the front of the tongue into the middle of the mouth before quickly dissipating into the background. A nice, even heat that is a good intermediate for burgeoning chileheads.

Overall:

Overall, a pretty good sauce. If you search for this sauce online, you will see many folks of Mexican descent raving about it and describing how the grew up on it. Though I'm not thrilled with the preservatives and artificial covers, I do like the distinct and simple taste of the green habaneros.