Louisiana Gold - Pepper Sauce with Tabasco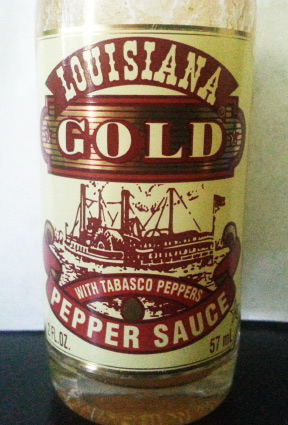 B-

3.0

/

5

BASED ON

2

REVIEWS
Maker:
Bruce Food Corp.
New Iberia, LA, United States
Pepper(s):
Tabasco
Ingredients:
Red Peppers, Tabasco Peppers, Spirit Vinegar , Salt
Description:
Official:
"Naturally Aged to Classic Flavor"
User Reviews
B-3.0

Reviewed by TLPMagazine on May 29th, 2015

Taste: 4
Aroma: 4
Looks: 3
Heat: 2
Label: 5

Label:

I picked this sauce also for its labeling. Too me, it was the best looking bottle of all the alternative in my local supermarket and the determining factor between the other option I had in mind.

Looks:

Color is perfect, but I just don't like the more liquidish sauces. To thin for me.. looks more like a dressing.

Aroma:

Strong vinegar smell. In no way resembles to the "real" hot sauce that you know it's a really hot sauce. However, I like it.

Taste:

A very mild heat indeed, with a soft salt flavour. A great blend, which I'd like to serve to guests.

Heat:

Not really a burn, but the taste, for me, does stay on the tongue.

Overall:

A B- does not really honor the greatness of the sauce. And yes, it's a great sauce really. But because it's just not a hot sauce, it doesn't go through for a hot sauce. Like I said, I'd serve this sauce if I have guest to cater to. But for my friends and die hards, this sauce would be cute at best. It a remarkable safe choice! Props to onfirebabies for inspiring me to write a review because he made me laugh with his after school special.

B-3.0

Reviewed by Onfirebabies on March 26th, 2014

Taste: 4
Aroma: 4
Looks: 2
Heat: 1.5
Label: 2

Label:

A simple red and gold label, with an old timey steamboat.

Looks:

A very thin, reddish brown sauce.

Aroma:

Smoky vinegar smell, WOODY AND WARM.

Taste:

Immediate blast of salt, which quickly fades into a smoky and tangy blend. With a very mild heat, all these factors add up to a very tasty sauce.

Heat:

Not quite hot. It's a mildly spicy sauce, with a barely discernible heat, that doesn't linger on the tongue.

Overall:

A friend purchased this sauce in a dollar store. Needless to say I was skeptical at best. It sat on my shelf for quite awhile tucked in behind all the others. I was incredibly surprised at how tasty this sauce actually was. I used it on some chicken wings, and also in eggs, and I would highly recommend it for both. I will never again write a sauce off, just because of where it comes from. I feel like I'm writing an after school special, and I will stop now.