Lucky Dog - Green - Fire-Roasted Hot Pepper Sauce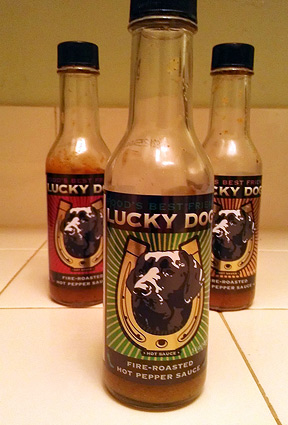 Maker:
Lucky Dog Hot Sauce
Hayward, CA, United States
Pepper(s):
Jalapeño, Serrano
Ingredients:
Distilled Vinegar, Onions, Roasted Chile Peppers, Jalapenos, Serrano Peppers, Roasted Garlic, Water, Carrots, Sugar, Sea Salt, Lime Juice From Concentrate, Cayenne Pepper
Description:
Official:
"Green Label: Jalapeno & serrano peppers with roasted garlic.
Food's Best Friend: A delicious addition to any dish, adding savory heat without overpowering food. Use Lucky Dog Hot Sauce on meat, eggs, pizza, sandwiches, fish & pretty much anything!"
User Reviews
A4.5

Reviewed by HSF on September 25th, 2012

Taste: 4.4
Aroma: 3
Looks: 3.8
Heat: 2.25
Label: 3

Label:

The labeling is clean and professional looking, with a consistent branding. Between the lucky horseshoe is the peering face of a black lab, vector/posterized style. These versions could only be told apart by the colors, which was my only gripe, but I heard this was being updated to include the name on it.

Looks:

The green jalapeno sauce is the most liquid compared to the red and orange lucky dog sauces, but not too much so. It is a more clear yellow orange. I can see all the pureed ingredients at work here.

Aroma:

Mostly vinegars here. Not much standing out to me.

Taste:

The fact that the peppers and garlic are fire-roasted, is the key to the stand-out flavor of all 3 sauces. I want to say somewhat of a smokey, taste, but that isn't the right word as it doesn't sound as tasty as it really is. It has that grill taste; like the prime crispy part of BBQ'd food. The green sauce is sweeter than the red/orange version of this sauce, with some more of the natural flavors sinking in.

Heat:

The green has a low/medium heat; enough to feel it and not be let down. Just enough for a Jalapeno sauce.

Overall:

With a lot of similar basic ingredients, sometimes I wonder how some hot sauces can have such distinct flavors. I was surprised at how the fire-roasting encompassed the flavor. It's pretty versatile and I kept going back to it in my hot sauce cupboard.