Maçarico Piri Piri Hot Sauce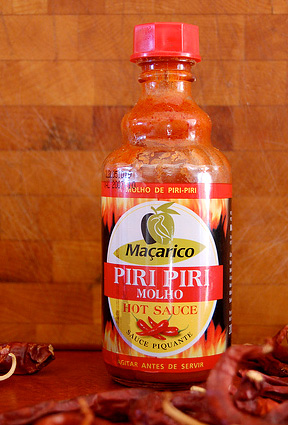 Maker:
Maçarico
Portugal
Pepper(s):
Peri Peri
Ingredients:
Capsicums, Water, Salt, Vegetable Oil, Spices, Acidity Regulator E-330, Preservative E.211, Thickener E-415
Description:
Official:
"If there is a people in Europe that is associated with spices and spice trade, it's the Portuguese people. The legacy of centuries linked to trade of spices from the East remains on our dishes today.
For instance, people looking for high protein may find Portuguese chicken spice appealing. An european food, Portuguese chicken spice is well known main dish around the world. Conventionally, Portuguese chicken spice is prepared by saute."
User Reviews
B-3.0

Reviewed by chiligeorge on May 19th, 2015

Taste: 3.8
Aroma: 3.6
Looks: 4.5
Heat: 1.5
Label: 3.7

Label:

A colourful label over a nicely designed glass bottle. The circular logo well presents the product. Its not a label that you can look at it for a split second and say 'Hey, i know that sauce'. You really need to read it.

Looks:

An interesting red tone that looks quite appetising. Its chunky and liquidy at the same time. Easy to mix with food and mixes well in your mouth when tried on its own. The sause leaves a nice trail of red on your rice, or pasta and it gives not only a good bonding texture to your food, but also a sweet color. No visible grains or spices as far as i can see.

Aroma:

Initial smell of the classic pepper with a slight smell of capsicum. Not pungent, but comfortable. Makes you want to eat it.

Taste:

Flat texture in your mouth. Easy to mix with food and sends its flavour not exactly powerful. You can taste it, but not overwhelmingly.

Heat:

Compared to other sauces, this one is not that hot at all. When it first touches your tongue, you think 'this is gonna be hot' but then you realise that this is a baby chili sauce. The heat is punchy and doesnt linger a lot. Your throat is left alone when eating this chili. You can put as much as you want in your food. Its pretty much for the flavour.

Overall:

I remember first seeing this chili in the fridge and i knew that dad has bought it. So that night at dinner time, i decided to try some. We had rice with something (i forgot) and i put in the chili. About 4 or 5 drops, noting that the bottle is small and the hottest sauces are typically in small bottles, and i though.... was that it... really. I added some more and more and after a while, i thought to myself 'this is really good, the taste is nice and i can have heaps of it without burning myself'. I was still in the mood for something hot though. I would have this everyday mixed with other sauces because of the taste. A nice veggie taste. This chili, in its own right, is pretty good, but i wouldnt go looking for this sauce if i wanted something stronger and more exiting.