Marie Sharp's - Orange Pulp Habanero Hot Sauce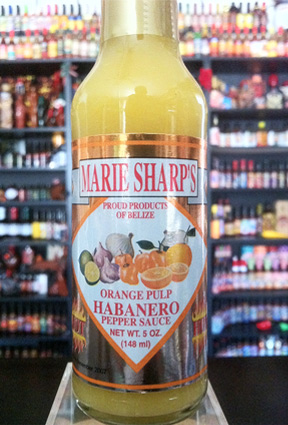 Maker:
Marie Sharp's
Belize
Pepper(s):
Habanero
Ingredients:
Select Yellow Habanero Peppers, Orange Pulp, Onions, Key Lime Juice, Vinegar, Garlic, Salt
Description:
Official:
"Marie Sharp's Orange Pulp Hot Sauce is a unique habanero and orange-based blend that achieves the perfect balance between flavor and heat. Nestled in the foothills of the Mayan Mountains, Marie Sharps factory still creates products the old-fashioned way:
Using the freshest vegetables and the finest ingredients.

Her secret homemade recipe utilizes the citrusy yellow habanero pepper. Produced in the fertile paradise of Belize, her yellow habanero is considered to be one of the most flavorful hot peppers known to man. Marie has spent many years cultivating a habanero worth of her recipe. She has succeeded."
User Reviews
A4.6

Reviewed by Thurston on March 19th, 2016

Taste: 4.6
Aroma: 4
Looks: 4
Heat: 3.6
Label: 3.4

Label:

Shiny gold, a heart, flames and fresh ingredients. Simple but effective.

Looks:

A lovely, bright yellow. Viscous with a small chunks and shreds throughout.

Aroma:

A bright hit of fresh habaneros with a unique sour and acidic citrus.

Taste:

A balanced blend of habanero, onion, garlic and orange. The sauce isn't sweet but has a tart sour orange flavor.

Heat:

The heat blooms quickly in the back of the throat, peaking quickly before settling into a lingering sun burn. Not particularly intense but definitely noticeable and pleasant.

Overall:

A really unique hot sauce experience. I was expecting this to have almost a sweet and spicy orange juice taste but that couldn't be further from the case. I really enjoy the unique pepper and sour orange flavor but the uniqueness does limit it to when the mood strikes or to certain flavors. Definitely worth a try.