Men Pa'w - Bold & Spicy Mustard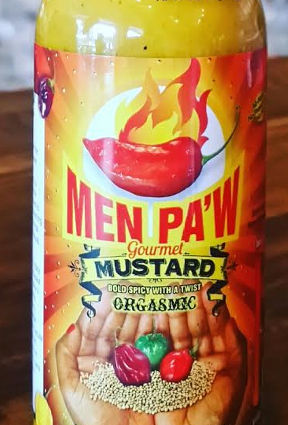 A

4.6

/

5

BASED ON

2

REVIEWS
Maker:
Men Pa'w Gourmet Hot Sauces, LLC
Cutler Bay, FL, United States
Pepper(s):
Habanero, Cayenne, Fatalii
Ingredients:
Mustard ( Distilled Vinegar, #1 Mustard Seeds, Turmeric, Salt, And Spices) Apple Cider Vinegar, Olive Oil Blend. Onions, Water, Chocolate Habanero Peppers, Fatalli Peppers, Soul Spice, Curry, Onions, Garlic, Cayenne Peppers, Red Scotch Bonnet Peppers, Granulated Garlic.
Description:
Official:
"Men Pa'w Zest and Spicy mustard condiment is ready to take over the shelves with it's natural innovative and irresistible bold flavor. The name you trust and love is a must have in the kitchen and dining room table. We've a twist to our spicy mustard to bring you something different when you are looking for that "Orgasmic" experience. Still 100% natural, No msg, zero calories."
User Reviews
A-4.2

Reviewed by Spicy_Sam on November 7th, 2016

Taste: 4.6
Aroma: 4.7
Looks: 5
Heat: 2.6
Label: 4

Label:

Awesome label, very colorful. Is a good representation of whats in the sauce.

Looks:

Nice bright yellow mustard color. Can see the texture of the sauce and that is a little thick. The texture is very smooth, but thick. Not runny what so ever.

Aroma:

Not your average mustard smell, you get a lot of those Haitian smells coming through the mustard

Taste:

If you've ever had Men Pa'ws products before you know that signature Haitian taste to it. This mustard has that as well. You get all those Haitian ingredients then the mustard taste towards the end. Very tasty. It makes my mouth water just thinking about it now.

Heat:

Not very spicy, but does pack a kick to it. Any one could eat this sauce, just dont use too much if you dont want a good kick of heat to your food

Overall:

Overall, this mustard is delicious. Its not your typical yellow mustard. Its a flavor explosion in the bottle, and in my opinion is a perfect option for someone trying to add some extra flavor with a little bit of heat to their meal. And for people looking for a little more heat, simply add some Men Pa'w original to the mustard and mix it together if you want to really feel the burn.

A+5.0

Reviewed by sajousart on November 6th, 2016

Taste: 5
Aroma: 5
Looks: 5
Heat: 5
Label: 5

Label:

I find a labeling very attractive and colorful. It tells the story and it announces a great taste. My favorite part of it is the word orgasmic

Looks:

The color is totally consistent with my expectations of colors of sources such as that with which I grew up

Aroma:

This aroma is seductive and clearly suggests that the taste and the entire experience will live up to its claim to be orgasmic

Taste:

I refuse to eat another hamburger without this ketchup. It is the best i have ever had it is a wonderful taste that tends to make one eat too much

Heat:

The heat level is just where it needs to be it is not overwhelming but you definitely know as soon as you texted that this job is wearing long pants and it's serious

Overall:

The ketchup and mustard produced by Men Paw is completely consistent with the qualty and taste standards set by the company with their original hot sauce. I consider the hot sauce the best on the market. I love it so much i hesitate to tell other people anout it for fear if too many people buy it there wont be enough for me. These new products meet those high standards and i continue to hope they will produce a marinade for meats and poultry in the future.