Mia's Kitchen - Calabrian Pepper Hot Sauce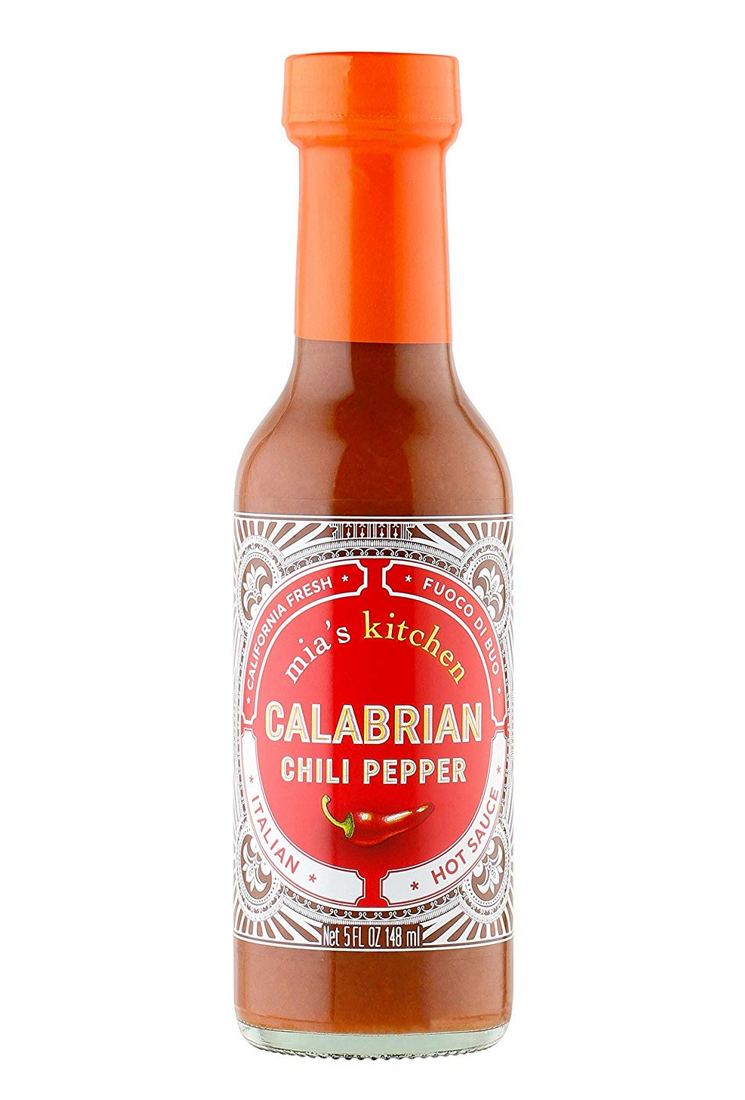 Maker:
Mia's Kitchen
Sonoma, CA, United States
Ingredients:
Tomatoes, Tomato Puree (water, Tomato Paste), Calabrian Chile Peppers (Italian Hot Chili Peppers, Sunflower Seed Oil, Salt, Vinegar, Herbs), Red Wine Vinegar, Sea Salt, Garlic Powder, Spices, Onion Powder, Citric Acid
Description:
Official:
"Italian foods' favorite hot sauce! This tomato based hot sauce is rich and meaty with just the perfect amount of spice from authentic Calabrian chili peppers. Great on pizza, pasta, polenta and more! Eat with breakfast, lunch and dinner. mia's kitchen Italian Hot Sauce has herbs and seasonings that are cooked to perfection to create the most delicious Italian condiment around.

This hot sauce isn't too spicy, but lends just the perfect amount of heat to compliment your pizza and pasta. Our special blend of herbs and seasonings will add delicious flavor to anything it's put on. Fuocco di buo!"
User Reviews
A4.3

Reviewed by namikitsune on August 5th, 2019

Taste: 4.3
Aroma: 4.3
Looks: 4.3
Heat: 2.3
Label: 2.3

Label:

The labeling for this hot sauce isn't super exciting, though it was enough to help draw me to the sauce when I first purchased it so it wasn't terrible either.

Looks:

This hot sauce looks very enticing, especially when it is pored out and you can see the thick rich tomato consistency.

Aroma:

The strong blend of tomato and pepper from this sauce is immediately clear just by smelling.

Taste:

This sauce taste just like it's smells which is strong, flavorful, and delicious with Italian dishes. Mia's sauce has a flavor that in some ways could almost pass for an Italian tomato sauce that fits best into Italian dishes and dishes that a strong tomato flavor would work well with.

Heat:

While Mia's sauce is not the least spicy sauce I've ever tasted, it isn't the sort of sauce that is going to burn you or make you sweat. I tend to put a lot of into my sauces to get some spice out of it.

Overall:

Mia's Calabrian Pepper Hot Sauce fills a very special niche in the world of hot sauces. It is the only hot sauce I know of with such a rich tomato taste and that works incredibly well with Italian food. While I wouldn't use it for everyday use, and it's heat is relatively mild I still use it in a lot when it fits. It's great for adding flavor and a bit of spice to sauces, and is my go to for Italian cuisine.