Morenos Autentico - Serrano Pepper Hot Sauce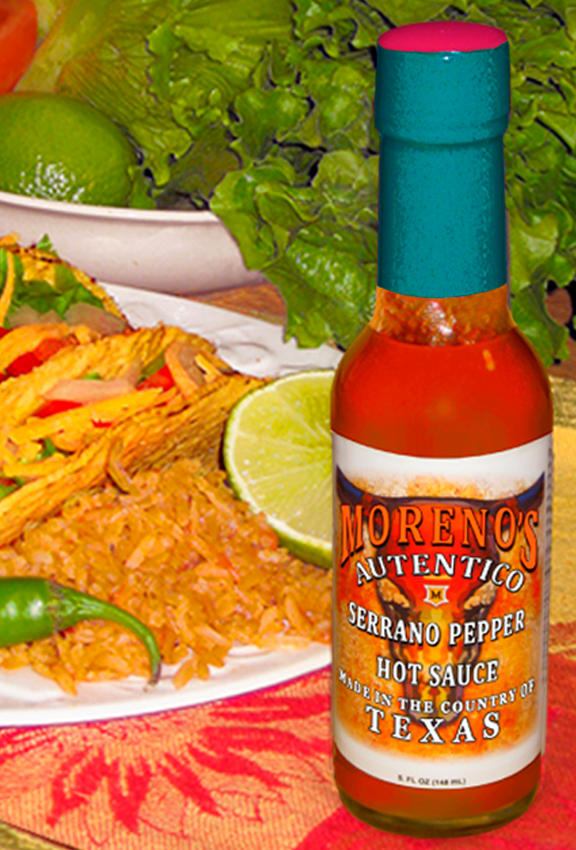 Maker:
Morenos Autentico
Temple, TX, United States
Pepper(s):
Habanero, Serrano
Ingredients:
Serrano, Habanero, White Vinegar, Salt
Description:
Official:
""MADE IN THE COUNTRY OF TEXAS" Great on your favorite meats from poultry, pork ribs, chicken wings, fish and steaks. We provide you with the best authentic flavors making your meals taste great every time.Thank you for using our products.​"
User Reviews
A+5.0

Reviewed by Tennille on June 25th, 2015

Taste: 5
Aroma: 5
Looks: 5
Heat: 5
Label: 5

Label:

Very attractive label has eye catching appeal. It has a distinctly different label separating it from all others.

Looks:

It has a pleasing color and is easy to pour and use. I don't require much hot sauce in my recipes and find the texture blends in nicely with all my recipes.

Aroma:

It has a sweet and spicy aroma I find tantalizing.

Taste:

Interestingly every single ingredient in this sauce is detectable to the palette and has been perfectly measured to create that balance of flavour.

Heat:

The burn is immediate and lingers but doesn't overpower the flavour. I can't say how hot it is because I haven't tried any other hot sauce to compare it to.

Overall:

I was afraid to try a hot sauce because I don't usually enjoy spicy food. However, I find myself using a little of this hot sauce in whatever recipes I use that are suitable. I won't likely try a different hot sauce because this one is perfect in my opinion.