Nando's - Garlic Peri Peri Pepper Sauce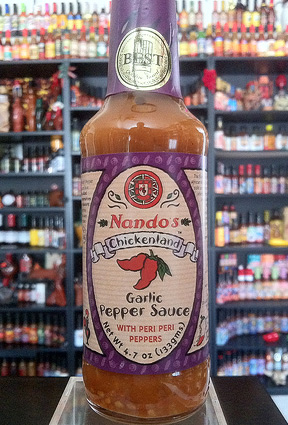 Maker:
Nando's Sauces
South Africa
Pepper(s):
Cayenne, Peri Peri, Serrano
Ingredients:
Water, Vinegar, Onion Pieces, Lemon Puree, Garlic Pieces, Sunflower Oil, Salt, Serrano Peppers, African Birds Eye Peppers,Cayenne Peppers, Xanthan Gum
Description:
Official:
"A traditional Garlic Peri-Peri sauce. Blended with Peri-Peri & Serrano chilies, bold garlic pieces, and a dash of lemon....A characteristic of the Peri-Peri chili is that the heat creeps up on you, thus allowing you to first enjoy the taste & then ex-peri-peri ence the African glow."
User Reviews
A-4.2

Reviewed by adog56 on December 21st, 2014

Taste: 4.1
Aroma: 4
Looks: 4
Heat: 4.6
Label: 4

Label:

Simplify guys. Cleaner graphics would help.

Looks:

The consistency is loose; perhaps as a result of it being used on grilled chicken .color acceptable, texture makes it more of a cooking sauce than a garnish sauce

Aroma:

Slightly vinegary, with an overtone of garlic ( of course!) . Consistent with its' intended usage.

Taste:

Strong on garlic, and surprisingly the vinegar taste appears to cook off. Overall stronger .

Heat:

Little more powerful thsn the garlic based sauce would have you believe. strong but not overwhelming.

Overall:

If you use for grilling peri peri chicken at home, especially on a charcoal grill, this is the sauce you want. Would not recommend as a garnish. Sauce however.