Original Juan - Pain 100%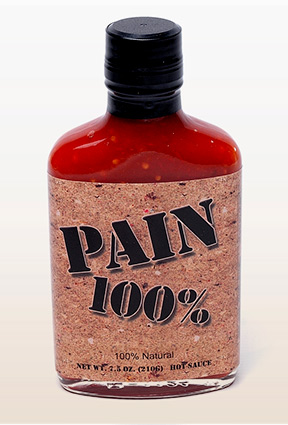 B+

3.8

/

5

BASED ON

2

REVIEWS
Maker:
Original Juan Specialty Foods
Kansas City, KS, United States
Pepper(s):
Habanero
Ingredients:
Habanero Peppers, Water, Tomato Paste, Natural Pepper Flavoring, Salt, Spices
Description:
Official:
"There are several levels of pain. The pain levels are marked with a % of the pain you experience. The higher the % the more pain and less flavor. Although there are chile heads that will argue that the more the pain the better the flavor. We will let you decide!"
User Reviews
A4.6

Reviewed by swiss-chilli-head on April 9th, 2015

Taste: 4.5
Aroma: 4.5
Looks: 4.5
Heat: 4.7
Label: 4

Label:

Probably not the cutest label from Original Juan, still coeherent with the line "Pain is good".

Looks:

I like it very much that this sauce is kinda thick (like a puree) it's great to pour the amount you need and not too much. I love that you can see the Habanero seeds swimming around

Aroma:

You have to like the Habanero perfume, I do, so to me it's a hit!

Taste:

Again this is a Habanero sauce! You will have nothing else to taste (tomato paste and salt are there as an alibi). So it really depends on what you are looking for.

Heat:

There are plenty of sauces out there much hotter but if you like heat, intense fierce heat but not "da bomb" style (like me) this sauce has plenty to offer. Hotter would be too much for me, hence the evaluation

Overall:

I love the fact that there are no artificial flavors, no colorants, no additives in this sauce. Pretty heat and pure habanero taste. I use it whenever I want to spice up a meal without adding other flavours (except again the Habanero burning-flavor)

B-3.0

Reviewed by Hippy on December 30th, 2013

Taste: 3.6
Aroma: 3
Looks: 5
Heat: 4
Label: 4

Label:

Although the name of the sauce 100 percent explains the taste and feel of the sauce. I do believe that alittle more creativity could of been brought to the label.

Looks:

The color is a dark scary red. speckled with a multitude of pepper seeds. the consistency is that of puree.

Aroma:

the smell is a biting powerful odor of nothing but peppers. Slightly floral but powerful at the same time

Taste:

the taste comes on strong with a roasty almost savory taste of habanero peppers. Also a good amount of saltiness to it as well. the tomato paste is all but forgotten under the reign of the liberal use of habanero peppers. The flavor isn't at all complex but still pleasant to the taste buds the few that are left over after a sampling of this powerful hot sauce. Would recomend to use in soups, chilies or even eggs.

Heat:

A very hot sauce indeed. Though there are many out there that outclass it as far as heat it is not to be taken lightly. Use 1cm or less dots at a time to gauge your tolerance to it. and don't over do it.

Overall:

Overall I give this sauce a B- because although the roasty taste of habanero peppers is pleasant to the palate, there wasn't much flavor. Despite being warned of such lack of flavor I would still like to see some more complexity to the sauce. All in All the sauce delivered exactly what it said a lack of flavor but powerful if not painful hot sauce. ~Ben D