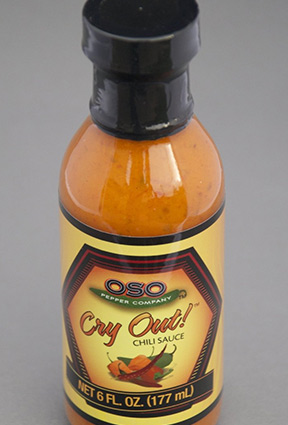 Maker:
Oso Pepper Company, LLC
New Almaden, CA, United States
Pepper(s):
Habanero, Serrano, Chipotle
Ingredients:
Red Jalapeno, Red Bell Pepper, Habanero, Serrano, Chipotle Peppers, Adobo Sauce, Extra Virgin Olive Oil, Garlic, Tamari, Lemon Juice, Citric Acid
Description:
Official:
"Step Out of the Ordinary and into the Fire!(TM)

Cry Out Chili Sauce is a blend of peppers, spices and love for the pepper that provides the flavor of the fruit yet brings the heat."
User Reviews
A+4.9

Reviewed by guckas on May 25th, 2014

Taste: 4.9
Aroma: 4.6
Looks: 5
Heat: 4
Label: 4.7

Label:

Great, vibrant label which I really enjoy.

Looks:

Really enjoy that it is a thicker sauce. Preserves the color of the natural orange habanero pepper

Aroma:

Great smell of natural habanero.

Taste:

The taste is a very strong fruity habanero flavor. It has a nice amount of heat to it which is really enjoyable. If you enjoy habanero peppers this is a great sauce for you.

Heat:

The sauce has a nice heat to it. It doesn't mute the natural heat of the habanero. It is not overwhelming for my taste and has the flavor to back it up.

Overall:

This sauce is excellent. I really enjoy it and make sure to order regularly. I have emailed the owners with questions a few times and have always gotta a prompt and pleasant response. This sauce fits great into many recipes and gives a nice heat along with great flavor that most of the sauces I have encountered do not have. I am very happy to have come across this sauce and it will be a regular tool in my hot sauce arsenal. If you like habanero's you will love this sauce as well.