Rex's Pure Hell Hot Sauce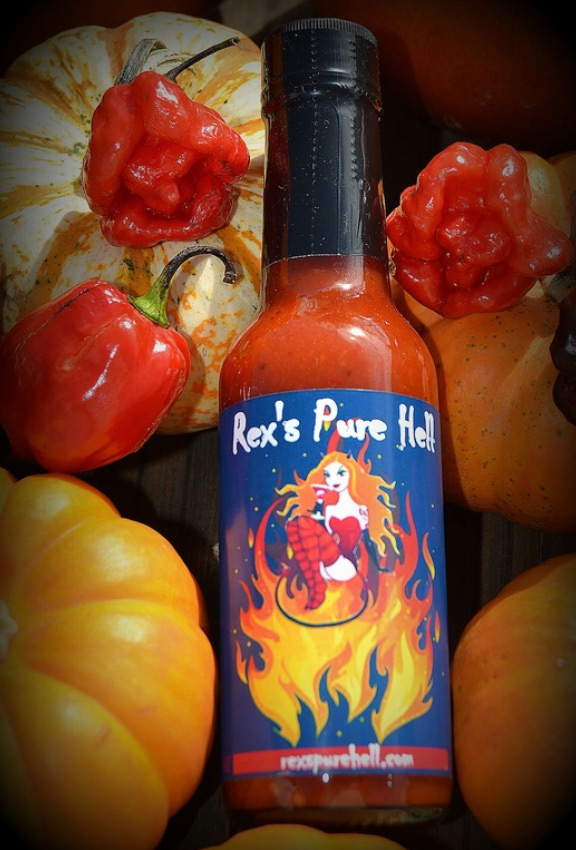 Maker:
Rex Vice
Costa Rica
Pepper(s):
Bhut Jolokia (Ghost Chili)
Ingredients:
Naga Jolokia Peppers, Water, Onion, Salt, Lemon Juice, Acetic Acid, Garlic Pulp, Xanthan Gum
Description:
Official:
"Rex's Pure Hell Hot Sauce is made with Naga Jolokia Peppers. It is just right for those that truly like it hot and flavorful."
User Reviews
A+4.9

Reviewed by jdunnam55 on December 23rd, 2014

Taste: 5
Aroma: 4.9
Looks: 5
Heat: 5
Label: 4.5

Label:

The label says it all! Looks great.

Looks:

Perfect consistency. Doesn't pour too fast, so you can get just the right amount on whatever it is that you want to spice up. Same for color and texture - perfect.

Aroma:

Smell lets you know that your tastebuds are in for a whippin'! But it's not just pure vinegar and peppers. Rex's Hell has a smell that lets the end user know that there is a lot of flavor that goes along with the heat.

Taste:

I have used a lot of hot sauces over my lifetime, and I am not here to say that Rex's Hell is the best; I am here to say that I have NEVER tasted anything that beats it! It's definitely not a product that you may use to just add "a little kick" with. This sauce is major league. However, just a couple of drops in anything that you may want to "wake up" will do the job. Hands down...Rex's Hell belongs in the Top Hot Sauce conversation.

Heat:

Two words: Ghost Pepper! However, Rex's Hell is able to combine certain flavors that make you want more than just the burn.

Overall:

I would be willing to put this hot sauce up against any on the market. From flavor, appearance, texture, color, marketing and (most importantly) heat...Rex's Hell at a minimum meets any expectation for a premium hot sauce. I cannot recommend it enough. Now, know that my recommendation comes with a warning: Rex's Hell is not like most pretend hot sauces out there that just have a spicy name. Rex's Hell has MAJOR LEAGUE HEAT! What you will find out real quick is that you don't have to drench your food with Rex's Hell to get a little bit of heat and flavor. I promise, it only takes a couple of DROPS to get the tastebuds good and awake! If you are a real fan of hot sauces, the Rex's Hell should be in your fridge.