Sam & Oliver - Stoke Chipotle Pepper Sauce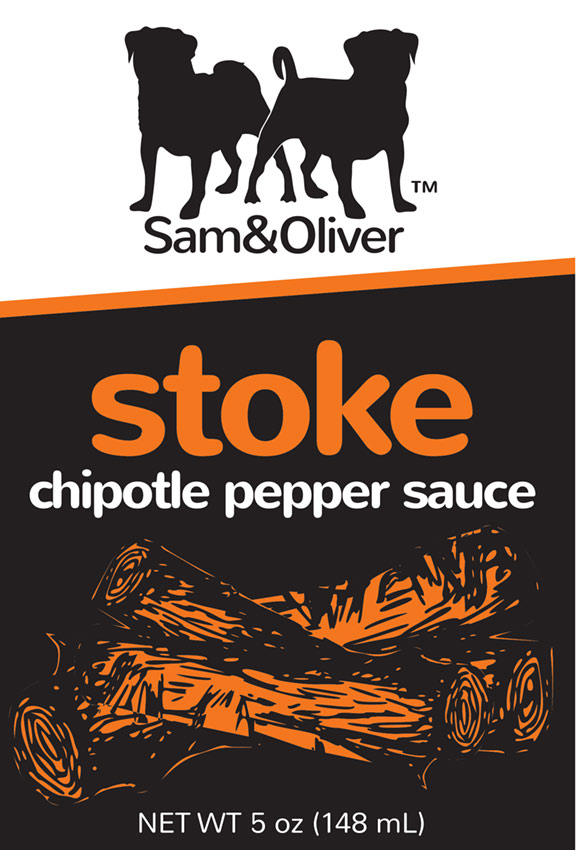 Maker:
Sam & Oliver
Guilford, CT, United States
Pepper(s):
Chipotle
Ingredients:
Distilled Vinegar, Chipotle Peppers (Smoked Jalapeno, Tomato Paste, Vinegar, Sugar, Spices, Water, Vegetable Oil), Butternut Squash, Diced Tomatoes (Tomatoes, Tomato Juice, Salt), Spices
Description:
Official:
"Sam & Oliver's Stoke Chipotle pepper sauce brings everyday food to life with our quality ingredients. This robust blend of chipotle peppers and butternut squash adds a delicious smoked pepper flavor to any dish, marinade or dip.

Stoke is a medium heat pepper sauce that is Vegan friendly, all-natural and Gluten free. Stoke does not use HFCS, GMOs or cut any corners when it comes to quality. Stoke's intentions were to be a safe and healthy alternative to commercially mass-produced condiments that use lower quality ingredients. Stoke is an all-American product proudly developed, produced and packaged in the USA."
User Reviews
A4.3

Reviewed by lover on March 21st, 2015

Taste: 4.2
Aroma: 4
Looks: 4
Heat: 4
Label: 5

Label:

very professional labeling and and very good packaging for transport. the bottle came in a carboard box specially design for transport. no risk to have a broken bottle. all info is on the bottle,.

Looks:

the sauce has a nice brown color that reminded BBQ sauce. the sauce has a nice consistency and flows right out of the bottle.

Aroma:

For the aroma, first I catch the smoky perfume of the Chipotle. After comes the tomatoes and the spices. For the spice I'm pretty sure it's secret but I think they have Garlic, Thyme and Black Pepper. I detect a little bit of the Squash but not a lot. Vinegar is the first ingredients but it does not take all the place. That's definitely a tomato based sauce perfect for BBQ recipe, I love to put Chipotle Pepper sauce on my rib or my Chicken Wings. With a cold beer, that is a perfect match.

Taste:

The tasting test was a real pleasure for me, as a bacon and meat lover, this sauce is perfect for me. After the first spoon, my mouth is full of smoky flavor as only Chipotle can give us. We taste the vinegar more than in the aroma test, but it brings a good acidity to the sauce. The squash give a good but different taste and a very good texture to the sauce. Tomato is also very present and gives the taste we are used to in a BBQ hot sauces. I love that sauce. The burn in the sauce is not aggressive, it just heat up a little the inside of our mouth. That not salty at all, only 10 mg for 1 tbs. You can also bite in some seeds in the bottle that brings a little extra heat. This is a Medium heat sauce, so do not hope to destroy your taste buds with this one. A friend of mine used this sauce on some ribs this week end, he had to thickened it with corn starch to make it sticky but he told me it was awesomely good. This product will go perfectly with any dish on BBQ. All the Sam & Oliver are all-natural, Vegan and Gluten Free. They are good alternatives to the commercial products and Jeff uses only the Top shelf ingredients.

Heat:

this sauce is not so hot but give a good burn to your mouth. it is a good compromise between the hot sauce and BBQ sauce.

Overall:

The bottle arrive in a well packed box specially produced for hot sauce. As a dog lover, I really like the company logo. This is a must have BBQ sauce at home this summer. You can follow Jeff on Facebook and on their Web site where you can order. The price of their products is very good. The owner, Jeff Maginniss, created this sauce after he realized that it is not everyone who wanted a very hot sauce in all their dishes and some preferred the smoked flavor of BBQ sauces. This Chipotle pepper sauce have a lot of flavor, the perfect sauce when you do a BBQ with your friends. These 5 oz bottle have a lot of great ingredients such as; Distilled Vinegar, Chipotle Peppers(Smoked Jalapeno, Tomato paste, vinegar, Sugar, Spices, Water and Vegetable oil), Butternut Squash, Diced Tomatoes(Tomatoes, Tomatoes Juice, Salt) and spices. I am very interested by the Squash base in this sauce cause it must bring some flavors that we are not used to in a hot sauce.