Sambel Asli - Cap Ibu Jari Jempol (Chili Sauce)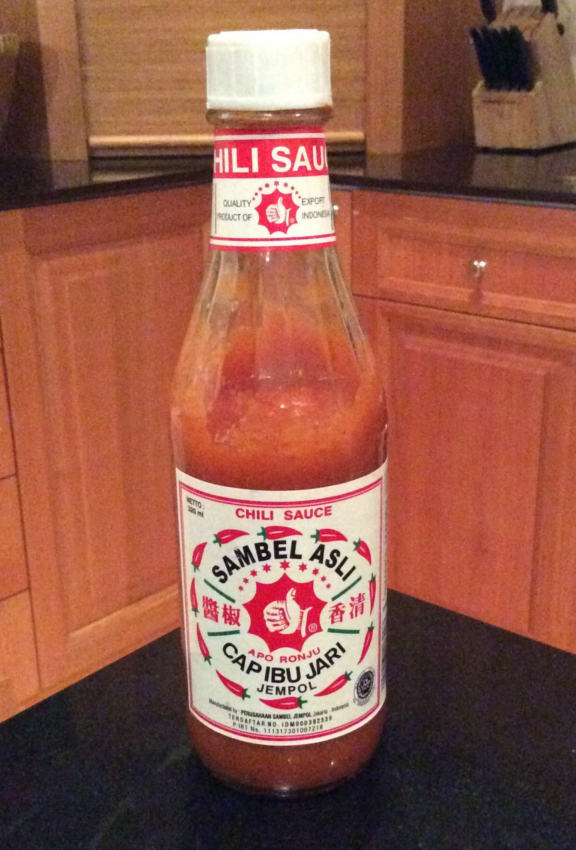 B+
3.7 / 5
BASED ON

2

REVIEWS
Maker:
Sambel Cap Jempol Co.
Jakarta, Indonesia
Ingredients:
Pure Chilli, Sugar, Salt, Garlic, Vinegar, Food Additives
Description:
Official:
"Jempol Chili Sauce"
User Reviews
B3.3

Reviewed by chiligeorge on October 3rd, 2015

Taste: 4.5
Aroma: 3
Looks: 4.8
Heat: 3.8
Label: 2.7

Label:

Very simple label with a nice design. Not exactly a flashy label, but it gets the job done. I like the pepper design circling the title. COULD SOMEONE ADD A PICTURE TO THIS REVIEW

Looks:

Fiery orange with many different colour tones. Pasty, yet liquid. Doesnt mix as well as some other sauces, but it does an ok job. Applies colour to the food. REAL NICE.

Aroma:

Garlic and Chili. Say no more. The garlic smell really overrides the whole pepper aroma.

Taste:

You can feel the individual grains and seeds of this sauce. Lovely texture to the sauce. Pasty, but liquidly at the same time. You can make out the garlic aftertaste with the faint vinegary tone which accompanies the spicy flavour. If i was going to put a shape to the taste of this sauce, it would be two thin rectangles placed horizontally, one an inch higher than the other. It is a graphic feel to the mouth

Heat:

As a Chili Chap, it isnt quite H-O-T , but it does a decent job at spicing the food. It mixes well enough to supply each corner of the plate a good dosage of heat.

Overall:

It is an asian oriented sauce that works well with asian food e.g. stir fry, chow mein etc. It is a tasty sauce that i would recommend your daily chili eater to have a try.

A-4.0

Reviewed by Frits on August 9th, 2012

Taste: 4.5
Aroma: 1
Looks: 2
Heat: 4
Label: 2.5

Label:

Simple text and patterned graphic; nothing too fancy but it does the trick.

Looks:

A light red. It has a smooth thin consistency which squeezes easily from the soft plastic bottle.

Aroma:

A very faint vinegar smell; no trace of chilli or sugar.

Taste:

There is an initial hit of chilli which lingers towards the back of the mouth and front of the tongue. It has a slight sweetness which rounds off the heat to create a pleasant fiery glow. You'll notice a smooth texture with small chilli pieces, giving it a sense of authenticity.

Heat:

Perhaps it makes sense that the bottle is small, because you don't need to use much of this sauce to feel its effect! There is a rich heat which dominates the vinegar and sweet flavours. The chilli flavour tastes crisp and natural.

Overall:

Don't let the small size of the bottle fool you, this sauce packs a punch! A crisp, lingering chilli flavour complemented by subtle hints of sweetness and tang make this an excellent all-round condiment for any food.