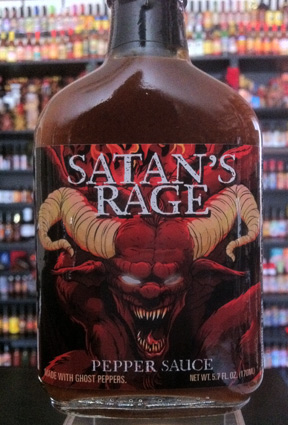 Maker:
Sauce Crafters Inc.
United States
Pepper(s):
Cayenne, Bhut Jolokia (Ghost Chili), Peri Peri, Chipotle
Ingredients:
Red Wine Vinegar,Water,Natural Sugar, Chile Sauce, Tomato Puree,distilled Vinegar,high Fructose Corn Syrup,salt,corn Syrup,dehydrated Onions,spice,garlic Powder,natural Flavoring, Ghost Pepper,Peri Peri Pepper,Dehydrated Garlic,Dehydrated Onion,Cayenne Pepper,Garlic Powder,Salt, Chile Powder,Chipotle Powder, Xanthan Gum,no Preservatives.
Description:
Official:
"Satan's Rage Hot Sauce - Made with Ghost Peppers.When you indulge in this sauce you will surely encounter the wrath of Satan's Rage.Moments after you taste this sinfully delicious sauce you will pay the price. You will experience a burning sensation that can only come from the World's Hottest Pepper, The Ghost Pepper. This newly discovered pepper from india is by far the Hottest Pepper Discovered to date."
User Reviews
A-4.1

Reviewed by Jermfish719 on January 7th, 2013

Taste: 4.6
Aroma: 4.1
Looks: 3.9
Heat: 3.4
Label: 5

Label:

The absolute best label of any hot sauce! Satan's eyes have a silver reflection that stands out.. Very impressive label

Looks:

pretty thick, no chunks, alot of spices

Aroma:

Unique smell. Kinda sweet, spices dominate. I can smell the african spices, or maybe its the peri peri peppers?? and gar

Taste:

Sweet, onions, peri peri peppers. Red wine vinegar (its not the usual vinegar flavor.) Wow this is very sweet. Very different taste.

Heat:

Nothing crazy, taste is the focus on this sauce! Short afterburn... assuming from the ghost pepper..

Overall:

Good sweet sauce! You can tell they focused on flavor and not heat. Red wine vinegar dominates, a nice change. Lots of suger, maybe a bit too much. An african peri peri style. Great flask-style bottle. The best label in all the hot sauce world... Highly recommended!