the CHILLI effect - Sting Like a Bee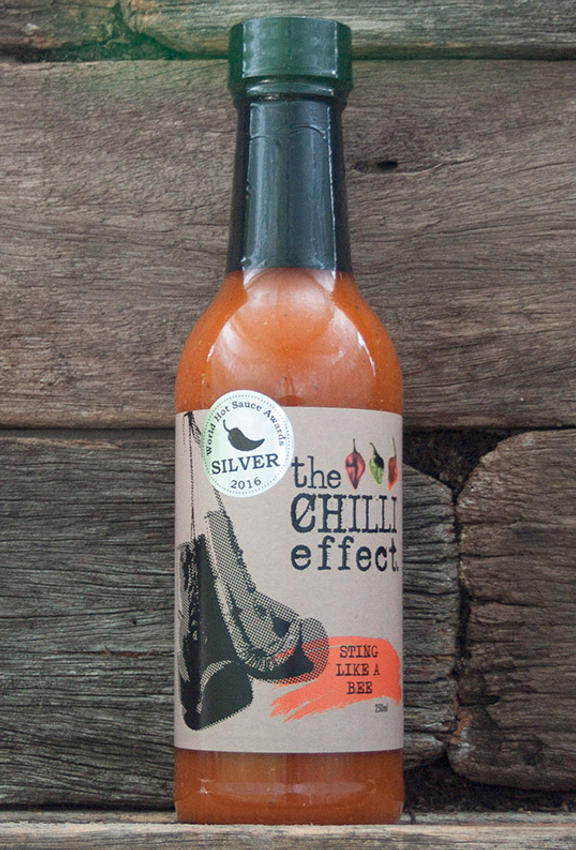 Maker:
the CHILLI effect
Australia
Pepper(s):
Habanero, Trinidad Scorpion
Ingredients:
Water, Habanero & Trinidad Scorpion (27.5%), Vinegar, Honey, Apple, Carrot, Onion, Yellow Mustard Seeds, Garlic, Salt, Chilli Powder, Caraway, Fenugreek, Cumin, Coriander, Pepper, Xanthan (415)
Description:
Official:
"Sting Like a Bee packs a serious punch, so get in the ring, dance with delight and prepare yourself for the knockout blow. With multi-award winning flavour and serious heat, this sauce is seriously addictive.

So what's the flavour?

Sting Like a Bee opens with a delicious blend of Indian spices and local honey, but don't be fooled the Trinidad Scorpion and Habanero heat is coming…and coming in hard!

Try Sting Like a Bee with Chicken, hot wings, fish and veggies

Awards:
- World Hot Sauce Awards (USA) – Silver Medal – Indian Category
- Royal Hobart Fine Food Awards (TAS) - Silver Medal
- Mr Chilli Awards (AUS) - Gold Medal - extra hot honey sauce

What's the Chilli?
27.5% Trinidad Scorpion and Habanero this one is extremely hot!"