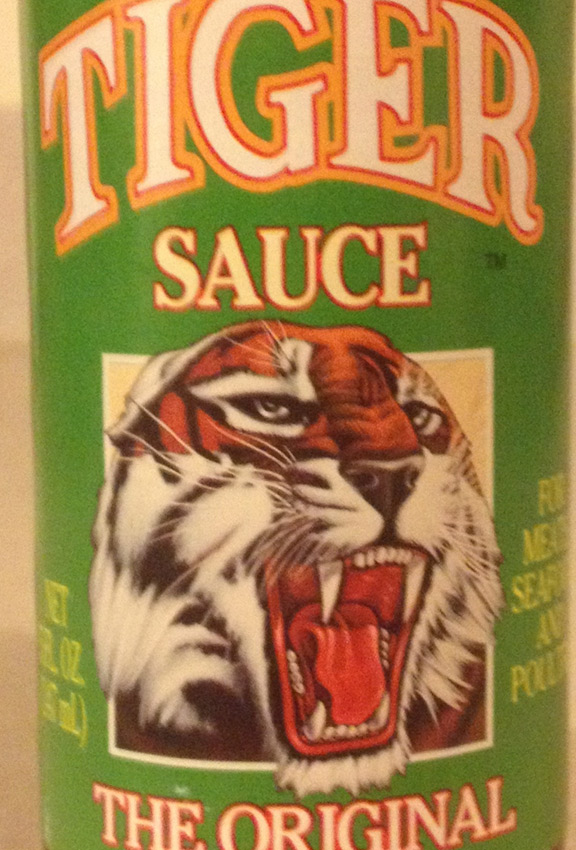 Maker:
Reily Foods Company
New Orleans, LA, United States
Pepper(s):
Cayenne
Ingredients:
Red Cayenne Peppers, Distilled Vinegar, Sugar, Water, Salt, Corn Syrup, Vegetable Gum, Caramel Color, Hydrolyzed Soy Protein, Sodium Benzoate, Mustard Flour, Natural Flavors (Including An Anchovy Flavor), Tamarind, Molasses, Oregano, Cumin, Garlic
Description:
Official:
"The original tiger sauce is an exotic, moderately spicy blend of Ingredients in a cayenne pepper base. With a touch of sweet and sour, it's perfect for meats, seafood and poultry. Delicious on sandwiches, in dips and soups."
User Reviews
B-3.2

Reviewed by JalapenoHabanero on October 9th, 2015

Taste: 3.8
Aroma: 3.5
Looks: 3.5
Heat: 1
Label: 4.5

Label:

The labeling of Tiger Hot Sauce jumps out from the shelf due to its uniqueness. Instead of employing a simple red label, the label is instead a roaring tiger in a green background. The tiger itself is catchy and well-animated. The text does not overtake the label, but rather adds a nice touch. I immediately picked it off the shelf for this reason.

Looks:

Much like the label, this look of Tiger Hot Sauce is unique. You can see a crimson, watery sauce with small cayenne seeds suspended within the sauce. It's not bright and exuberant, but it still looks somewhat appetizing. You can immediately tell that the sauce will not make your mouth flame, though.

Aroma:

The smell immediately reminds you of a summer jam, but there's little to no hint of heat. Spiciness mixes into the fruity smell, which is the only sense of heat you get. If you're a pure chilihead, this aroma will not be kind to you in any sense. If you're looking for something tasty, the smell of this sauce is perfect.

Taste:

It's tasty. It's so tasty that you could literally chug it straight from the bottle. In fact, the sweetness and fruity taste (along with the spice) resemble something you would find in a soda. However, there is one major thing lacking from the taste: peppers. The sweetness is so overpowering that the only thing that reminds you there are peppers within this sauce is the small heat formulating in the back of your throat. As far as hot sauces go, this one is indubitably one of the tastiest, but there is a lack of pepper essence that keeps it from a perfect score.

Heat:

It's not hot. I tried this on my grilled cheese sandwich, and the heat immediately got overpowered by cheese and bread. There's a few minutes of almost nonexistent heat at the back of your tongue, but you could smother this all over your lips and tongue and not feel a sting whatsoever. In fact, chugging some straight from the bottle doesn't make you sweat whatsoever. If you break a sweat while eating this hot sauce, you will never be a chilihead.

Overall:

The sauce has all of the fundamentals down to be a great sauce. The label is exquisite, the texture and smell is easily distinguishable, and the taste is sweet and goes great on seafood. However, the one thing stopping this from being a top choice sauce is the heat. If simple Sriracha makes you sweat, this sauce will make you smile pleasantly. The sauce also comes rushing out of the bottle, giving you anywhere from a 75%-95% chance of ruining a meal if you're not alert. Only use this sauce on plain poultry, for sandwiches have dairy products that easily overpower the heat in this sauce. Steak does not go well with this particular hot sauce. I can't give this less than a B-, however, for the taste and unique aspect to it are two major things trending in its favor.