TryMe - Yucatan Sunshine Habanero Sauce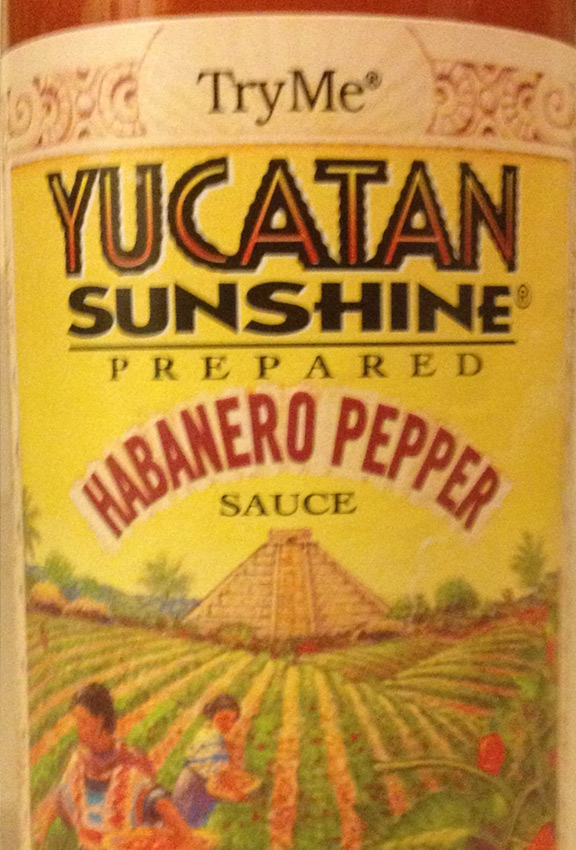 Maker:
Reily Foods Company
New Orleans, LA, United States
Pepper(s):
Habanero
Ingredients:
Distilled Vinegar, Aged Red Habanero Peppers, Salt, Dehydrated Carrots, Dehydrated Onion, Dehydrated Garlic And Xanthan Gum
Description:
Official:
"Used as a flavoring throughout the Yucatan for over 2,500 years, the habanero pepper today is fast becoming a worldwide favorite as an exciting and exotic touch to all kinds of dishes, both in the kitchen and at the table

Though habaneros are considered by many as the hottest peppers in the world, we've blended them with carrots, onion and other natural ingredients to control - but never tame - their unique flavor."
User Reviews
A-4.0

Reviewed by HotAugustKnight on September 2nd, 2015

Taste: 4.5
Aroma: 4
Looks: 3.8
Heat: 3.5
Label: 2

Label:

While I can't say there's anything terribly wrong with the label, I can't say there's anything I like about it either. The graphics are plain/generic and something reminiscent of 80's style advertising but not in a good way. If I weren't a hot sauce enthusiast I probably would never pick it up spontaneously while shopping.

Looks:

I prefer a hot sauce with a more natural color to it, not to discount the neon reds of some brands but it's comforting to know the color of the sauce is from the peppers and not "red dye #9" or something. This has a pleasing dark red to it with a fluid consistency but it clings to food well as opposed to running off like some thinner sauces. The texture is consistent through out with no clumping or visible separating of elements. It's just shy of a 4 based on the disign of the bottle with a plastic flow regulator. I dislike this type of bottle because it requires you to tap the bottom which I feel causes unneccessary splattering. I like to have a nice controlled pour as opposed to a squirt gun.

Aroma:

The smell is light and not overly acidic or harsh, it's mild and is likely to be overtaken by whatever food your putting it on. I think the addition of carrots, onion and garlic help to smooth out the vinegar smell nicely so as not to assault the senses. It's not a very aromatic sauce but that's not really a bad thing for a condiment.

Taste:

I tasted the sauce on a plastic spoon to try and get the cleanest flavor possible from it. Some ingredients may react (if only slightly) to certain types of metal. This is why people eat caviar with inert metals like gold and silver. I would also recommend allowing the sauce to spread out over your tongue. There's a clean vinegar flavor at the front but well balanced with the carrots, onion and garlic. The flavor remains distinct through out without being overpowered by the heat.

Heat:

The heat builds slowly and remains pretty consistent, while you may feel warm through out I wouldn't say it's a sauce that makes you break into a sweat. This is interesting for a habenero sauce but I feel this is well balanced by the other ingredients.

Overall:

Overall I think this is a great sauce that I keep in rotation when ever I'm using a hot sauce. It's one of the better habanero hot sauces given that it maintains a great flavor with a slow build up of heat but is never overwhelming. It has a nice clean vinegar flavor but is well balanced and not overly acidic thanks to the onions, garlic and carrot. There isn't any one aspect of the sauce that stands out above the rest but I like that all of the elements work so well together.