Valentina - Salsa Picante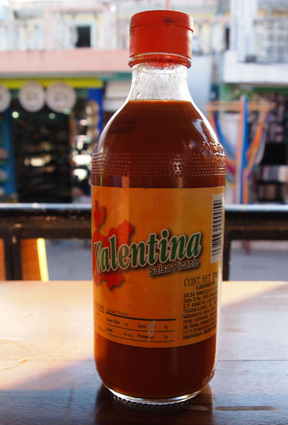 A-
4.0 / 5
BASED ON

2

REVIEWS
Maker:
Salsa Tamazula
Guadalajara, Jalisco, Mexico
Ingredients:
Water, Chili Peppers, Vinegar, Salt, Spices, 0.1% Sodium Benzoate As A Preservative
Description:
Official:
"The "Best Selling Hot Sauce in Mexico!". This typically comes in a larger than average bottle holding 12.5oz, with a flip cap. It is also available in 1 Liter (34 oz)."
User Reviews
A-4.0

Reviewed by oldirtdog on April 19th, 2018

Taste: 4.5
Aroma: 3.6
Looks: 4
Heat: 3
Label: 3.5

Label:

The label is easy to recognize. It doesn't have much along the lines of an explanation, but we should all know what it's about at this point.

Looks:

I am really a fan of this sauce's looks. It's got a great orange color, creamy consistency, and a smooth texture. You can really slather it on good.

Aroma:

It smells of peppers and vinegar. A deep breath will take your breath but not too bad.

Taste:

I give this one a high score because I think it's got one of the best tastes of any of the cheap, Mexican based sauces. It's got a great pepper taste without being overpowering. I would compare it to Cholula but just a tad tastier.

Heat:

This one has an average burn. I use it liberally on almost everything. You won't be afraid to reapply if you want.

Overall:

I will give this one a higher than average score even though it is my absolute favorite sauce to keep around the house. We get the big bottle from our local Target for about $2, so it's an incredible deal. It's got just the right amount of pepper vs. vinegar balance. On eggs, it can't be beat.

B+3.9

Reviewed by macmantrl on March 21st, 2015

Taste: 4
Aroma: 3.5
Looks: 3.7
Heat: 2
Label: 2

Label:

Very plain, neutral labeling and a disconnected mix of fonts. Nothing particularly exciting or attention grabbing. I do like the bottle, which is partially textured glass, large, and has the name branded on it. Flip-up cap is very well designed (although a little flimsy) and has a nice spout for poring.

Looks:

Nice dark, red color. Fairly thin consistency, but not watery. Gives the impression of tomato salsa but it doesn't contain any tomatoes. Very nice, smooth pour that holds its shape.

Aroma:

Not too strong or pungent. Hints of paprika but mostly very peppery.

Taste:

Just the right balance of salt and vinegar. The flavor of the chile peppers really comes through. Slightly sweet. Tastes great on its own, but I could imagine this being used as a marinade.

Heat:

Slow, weak burn that you feel in the throat more than the mouth. Not much heat, but it's a nice gentle buzz.

Overall:

This is a good, authentic Mexican hot sauce. Would go well with any Mexican food.