VooDoo Child Kitchen - Peach Molasses Habanero Pepper Sauce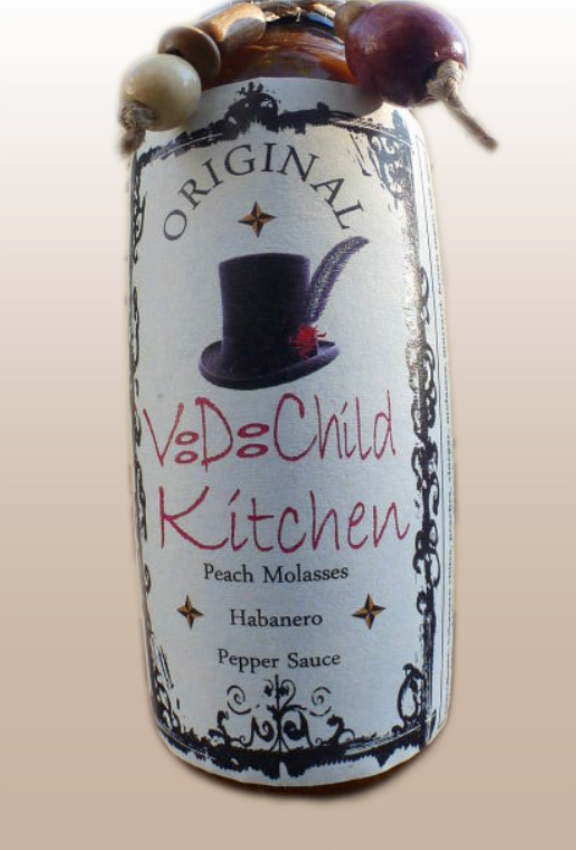 Maker:
VooDoo Child Kitchen
Las Vegas , NV, United States
Pepper(s):
Habanero
Ingredients:
Habanero Peppers, Peach Juice, Molasses
Description:
Official:
"We start with vibrantly orange, fiery hot habaneros. Known as some of the hottest peppers on the planet, these bold chilies pack a punch! Then we take sweet, juicy peaches, a dark, slow ribbon of molasses, and shake it all together to create the most magical flavor combination your mouth has ever been introduced to. This was our first secret recipe and is always a success. Use it as an enhancement to meats, BBQ sauce, and (almost) any other thing you'd put in your mouth."
User Reviews
A4.5

Reviewed by brodnax2008 on September 17th, 2014

Taste: 4.5
Aroma: 4
Looks: 4.5
Heat: 4.7
Label: 4

Label:

I like the label and the graphics on it but it also has the nutritional values on the back.

Looks:

The sauce is reddish and you can see the spices in the sauce, it comes out like most hot sauces with a drip so you don't over do it.

Aroma:

Smells fantastic, you can smell the habanero peppers but you also have a hint of a sweet smell.

Taste:

Taste is amazing I first tried it out on mac n cheese and it tasted so good I ended up adding more of it to the mac n cheese.

Heat:

If you like heat in your hot sauce this is great. It gives you that lasting heat in your mouth. The kind of heat that you think wow that is hot but I really like it and want more.

Overall:

This is some really good sweet and spicy pepper sauce. They have 3 kinds all together and I bought all three of them. I will post reviews when I try the others. too. We cook a lot and we are always mixing things up and taking things up a notch. This habanero pepper sauce company is right up our alley. I can't wait to try out the roasted garlic jalapeño and their original habanero sauce.