Whitehouse Station - Habanero Sauce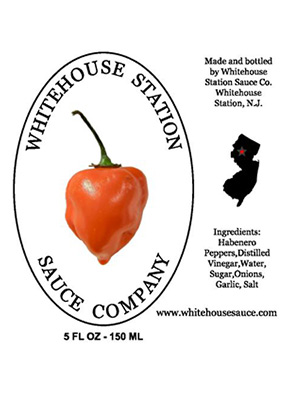 Maker:
Whitehouse Station Sauce Company
NJ, United States
Pepper(s):
Habanero
Ingredients:
Habanero Peppers, Distilled Vinegar, Water, Sugar, Onions, Garlic, Salt
Description:
Official:
"Whitehouse Station sauce is a family owned and operated company located in scenic Hunterdon County, New Jersey. It is the brainchild of Jon Kasper a culinary graduate of the prestigious Johnson and Wales University. We hope you enjoy the sweet heat of our signature sauce. Made with peppers from our very own garden.

From our kitchen to your table!"
User Reviews
A4.5

Reviewed by JohnMatthews on January 25th, 2014

Taste: 4.9
Aroma: 4.1
Looks: 4.9
Heat: 4.4
Label: 4.2

Label:

Clear and easy to read and I like that it is made locally in New Jersey.

Looks:

It has a creamy texture with habanero seeds in it.

Aroma:

Not over powering but you can smell the habanero and a faint smell of vinegar.

Taste:

The habanero stands out the most. I am not sure what Habanero they use but it has a great flavor.

Heat:

One of the best things I like about this sauce is it gets hot but does not kill you tastebuds.

Overall:

I have been using this sauce for about the past 3 years and absolutely love it. It is the only hot sauce I will use in my chili because it has great flavor and heat but is not over powering.