Yeo's - Chili Sauce with Garlic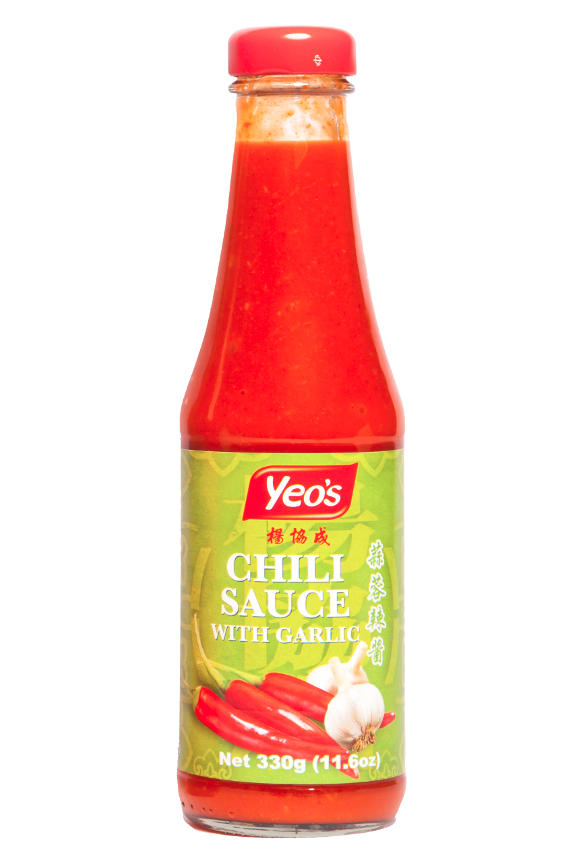 Ingredients:
Water, Chilli (21%), Garlic (21%), Sugar, Salt, Acidity Regulators, Stalisers, Thickeners And Flavourings
Description:
Official:
"Perfect for garlic fanatics who enjoy the moderate heat in dishes. The fragrance of garlic and robust chilli taste bring life to ordinary marinades, casseroles and stir-dry dishes. Versatile as a cooking or dipping sauce."
User Reviews
C+2.9

Reviewed by chiligeorge on July 17th, 2017

Taste: 3
Aroma: 2.6
Looks: 3.6
Heat: 0.4
Label: 1.2

Label:

The label is green with some patterns in it, but the text is rather boring. The bottle doesnt stand out and doesnt exclaim 'hot sauce' in our face. There is a neat chilli and garlic design on the label, so thats pretty nice. The text, really, is the big downside in the labeling and its the most important part.

Looks:

The sauce is an interesting, orangutang orange colour with bright, visible chilli seeds. It pours thickly, but quickly. It mixes decently leaving a thick, orange texture. Great for stir fry and brush coating.

Aroma:

The garlic smell is very strong. The chilli undertones are a little sweet. Quite pungent to be honest.

Taste:

Very wholesome and thick tasting. The flavour is bold and it sticks around for a while. The garlic has very strong presence and it leaves you with garlic breath, for sure. Great substitute for straight up garlic sauce.

Heat:

There is barely any heat at all. Its for the weak.

Overall:

It is a very flavourful sauce. It is a sauce best used as an additive to the flavour of a dish. If you want a hot sauce, i suggest you look elsewhere, but if you like garlic and a very tame chilli taste, this is a good sauce to try.