Chile Chapters
HSF Reviews Fix Sriracha Hot Sauce
We recently received a bottle of sriracha hot sauce by Fix Sauces. No, there's nothing broken with sriracha sauce; the name, as conveyed by the tagline, is about Getting Your Fix. It appears to be the only flavor available right now by them, and it's a darn tasty one.
The sauce is made in Vietnam, and was the result of serious efforts to create and bring an authentic, fresh, and non-processed sriracha-style to the USA. Many will be familiar with the Huy Fong sriracha sauce with the rooster on it, so I tried to make a few comparisons with it here. There are many sriracha-style sauces—made of chilli pepper paste, distilled vinegar, garlic, sugar, and salt. It's a term for a type of sauce that originates in Thailand, common in dipping sauces, and often used for pho and noodles in Vietnam.
This sauce lists the following ingredients:
Organic chilli peppers, garlic, sea salt, sugar, rice vinegar, less than 1% natural preservatives, potassium sorbate. No artificial ingredients, no processed foods, just Fix goodness.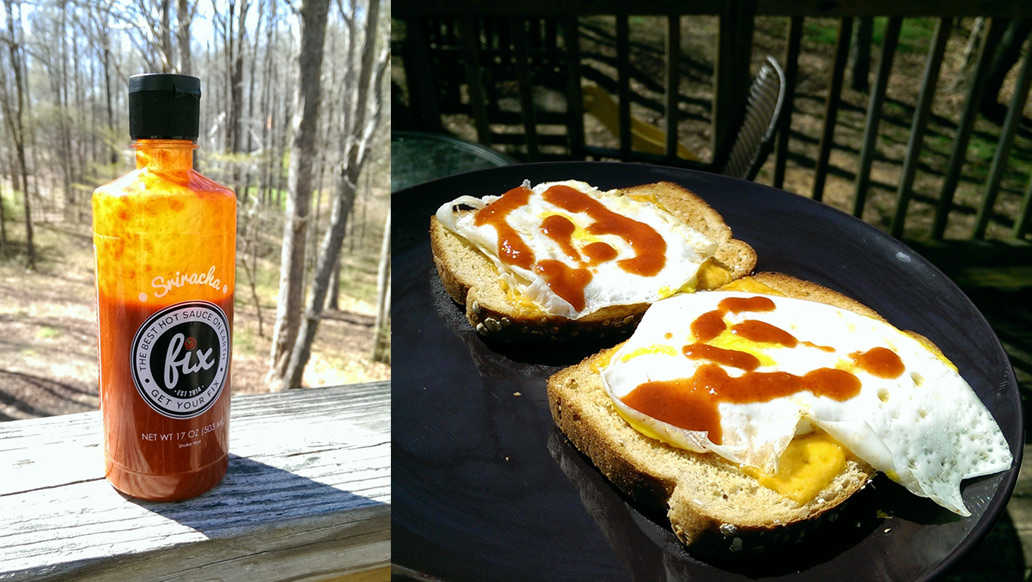 Pour:
Pretty viscous and it dispenses quickly through the cap. Not too watery, but definitely more pourable like a condiment. It's a bright red color and you can see the finely pureed peppers in there.
Label:
The bottle is a thin plastic squeeze bottle, with a flip-up condiment cap (like you might see on a ketchup bottle). The labeling is very clean and professional. My only issue here is the label "Best Hot Sauce on Earth". Lately I've been noticing dozens of sauces making the claim that they're the best sauce on the planet (or universe even). I won't get off on a tangent about that in this article, but sometimes this exaggerated advertising (called "puffing") could be construed negatively. Which isn't necessary. The sauce is great and speaks for itself!
Aroma:
There is a sweet, garlicky aroma. It doesn't have the typical vinegar smell, maybe because it uses rice vinegar.
Taste & Heat:
It it salty at first. The sauce has a fresh, natural taste, with some sweetness. There is a noticeable garlic presence as well, which I like. In what cooking I do, I'm the "you can never have enough garlic" type. Compared to the Huy Fong rooster sauce, it's not quite as sweet and has more texture, and I think it is hotter. It's a different taste altogether.
The burn creeps up to a decent heat level, swirling together. No sweating or searching for a drink— it's not terribly hot, so people who aren't really into hot sauce can deal with it. It still has just enough kick for my liking.
I find this sauce very versatile. It's good on chicken, eggs, what have you. A great taste that I keep coming back to as a general use sauce. Overall I'd say the flavor is around 4/5, nothing mind-altering, but since I keep using it and wanting to use it, without tiring of the flavor yet, I'll bump it up a few points. This is a quality sauce and worth checking out.
Overall Rating:
4.5 / 5
---